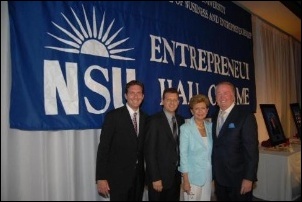 FORT LAUDERDALE, Fla. & DAVIE, Fla. (PRWEB) April 30, 2007
Entrepreneur James R. Dunn, Owner/President of J.R. Dunn Jewelers, Kurt J. Langsenkamp, President of Steel Fabricators, LLC, and Michael E. Maroone, President and COO of AutoNation, Inc., were recognized for their success as entrepreneurs and for their contributions to philanthropic organizations. Each honoree was presented with a ChromaArt Collections award specially created by nationally acclaimed visual artist C.J. Latimore. Guests saluted the honorees after learning of their exceptional stories through video presentations.
Jim Dunn, along with his wife Ann Marie, founded J.R. Dunn Jewelers and has been recognized in the community of South Florida numerous times. Being named Entrepreneur of the Year by Nova Southeastern University will be an honor he will remember. Originally from Boston, Massachusetts, Jim and Ann Marie Dunn opened their first jewelry store, the House of Gems in Hanover, Massachusetts in 1969. This was the beginning of what would become 2 retail jewelry stores known as J.R. Dunn Jewelers. Today, J.R. Dunn Jewelers is a 8,000 square foot store in Lighthouse Point and another store on the world renowned Las Olas Boulevard. The Las Olas location received special recognition by being awarded the "Store of the Year" in 2002 by the Institute of Store Planners.
Jim Dunn's honor came as a complete surprise even though in 2002 he was honored with the Sun-Sentinel's Excalibur Award for "Small Business Leader". Jim is actively involved in numerous charitable organizations and dedicates a lot of his time to the Boys' and Girls' Club of Broward County. In 1996, Jim organized "Dunn's Run" and over the past 11 years has raised over $1 million for the Boys' and Girls' Club.
Fellow Hall of Fame members Rick Case, Thomas J. Miller, Terry W. Stiles, and H. Wayne Huizenga, presented the honorees with their awards. Celebrating its 18th year, the Entrepreneur Hall of Fame honors the achievements of outstanding businesspeople.
For more information about James R. Dunn and J.R. Dunn Jewelers please visit the company's website at http://www.jrdunn.com.