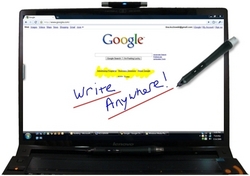 Lake Zurich, IL (PRWEB) August 24, 2009
Duo, from KCI Communications, Inc., incorporates next generation technology to convert almost any laptop or desktop LCD, 17" and under, to a touch screen. Using patented technology combining Ultrasonic waves and infrared rays, the Duo instantly turns an ordinary laptop into a tablet without losing any functionality. At The Duo Website you will be able to view a video demonstration, download literature, view images, and securely purchase online.
Duo interfaces with Windows Vista® and Windows 7® tablet software. This enables you to either capture characters in your own handwriting or automatically turn them to ASCII characters for clear, easy reading. DUO also integrates with Microsoft Office® ink annotator to allow writing, such as signatures, directly on the document. Teachers can use Microsoft Word's ink annotator to mark and grade digital papers, eliminating the need to waste paper. The easy USB "plug 'n play" set up allows even the most novice user to install the system in minutes.
Using the Duo Board software, you are able to write and draw directly on your desktop or document. Want to save the notes and drawings? No problem! Duo allows you to capture all or part of your notes in a .jpeg file, leaving your original document or desktop free from "graffiti" when you are finished.
An interchangeable tip allows you to insert a ballpoint pen tip for taking notes direct on paper and having a digital copy appear on Duo's Notetaker software! Perfect for students, artists, and business professionals who need to share copies of notes, drawings, and more!
With the changing climate of decreased business travel, net meetings are on the rise and productive on-site customer visits are a must. Duo takes efficiency to the next level by keeping notes, opportunities, customer specs and other key information from the meetings documented and accessible. Be on the cutting edge of technology; wow your peers and customers with your advanced and efficient use of the latest in touch screen technology! Visit http://www.converttotouch.com for a special introductory offer and free shipping in the continental U.S.
# # #