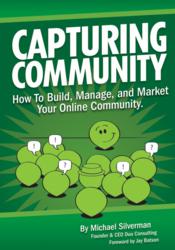 Participating in online communities helps marketers & entrepreneurs break through the media clutter & engage their audiences on a personal level.
Chicago, IL (PRWEB) April 23, 2012
Duo Consulting CEO Michael Silverman presents Capturing Community: Creating Opportunities with User-Generated Content at the OpenDialogue conference in Toronto. Silverman details how marketers, entrepreneurs and other professionals use online communities for brand awareness, networking, recruiting, thought leadership and other professional enhancement opportunities.
Based on research conducted for his new book, Capturing Community: How to Build, Manage and Market Your Online Community, Silverman details how participating in online communities helps marketers & entrepreneurs break through the media clutter and engage their target markets on a personal level. With businesses everywhere struggling to gain a full understanding of how to best leverage social media, Silverman presents best practices for encouraging engagement and sparking a rich dialogue within your community.
Research for the book was sourced from more than a dozen community management and marketing professionals, including David Meerman Scott (WebInkNow), Meghan Peters (Mashable) and Mike Samson (Crowdspring) as well as Duo's portfolio of community-focused web projects.
The Power of Choice: Attracting Consumers in an Opt-In World conference is April 25 at the Old Mill Inn in Toronto, Ontario. It features presentations from companies on planning and executing effective content strategy.
About Duo Consulting
Based in Chicago, Duo Consulting is an enterprise web design & development firm that uses Drupal open-source technologies to create content-rich websites accessible through desktop and mobile platforms. Since 1999, Duo has worked to improve the website user experience for diverse brands across media, legal, education, nonprofit and other industries.