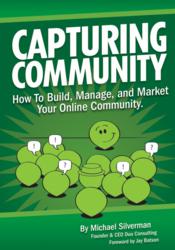 The concept for the book was born out of the frustration and agony social media has caused marketers across the globe
Chicago, IL (PRWEB) May 08, 2012
From Duo Consulting founder and CEO Michael Silverman comes an up-to-date how-to guide on building and profiting from your own online community website. Available through the Content Marketing Institute (CMI), Capturing Community: How to Build, Manage and Market Your Online Community details the strategies that have made today's entrepreneurs, marketers and hobbyist into successful community managers.
With stories and best practices sourced from dozens of experienced online community managers, readers are guided through the online community process, from nurturing an idea to building an audience to benefitting from their new roles as managers. To illustrate concepts with successful example, stories were sourced from web communities including Mashable, AbsolutePunk, crowdSPRING, Dooce, WUGspace and LitReactor.

Learn how marketers, entrepreneurs and other managers can benefit from creating or participating in online communities.
Understand best practices for creating a sticky, engaging online community from the most successful community managers.
Hear stories about different communities (and their leadership) and how they achieved success—creating communities with many thousands of loyal members.
"The concept for the book was born out of the frustration and agony social media has caused marketers across the globe," Silverman said. "Trying to break through the noise of Facebook to build a meaningful dialogue with your community is nearly impossible. But online communities rallied around a purpose have been in place since the very beginning of the Internet, and it was time to put the power they wield into perspective."
A serial entrepreneur, Silverman created his first community, RehabCentral.com, in 1997 before founding Duo Consulting. Since 1999, Silverman has participated in the development of dozens of marketing-focused websites and communities for a variety of organizations.
Capturing Community can be purchased at Amazon.com.
About Duo Consulting
Based in Chicago, Duo Consulting is an enterprise web design & development firm that uses Drupal open-source technologies to create content-rich websites accessible through desktop and mobile platforms. Since 1999, Duo has worked to improve the website user experience for diverse brands across media, legal, education, nonprofit and other industries.
About Content Marketing Institute:
Content Marketing Institute teaches non-media brands how to attract and retain customers through compelling, multi-channel storytelling. CMI does this through multiple offerings including: Content Marketing World event (Sept. 4-6, 2012), Chief Content Officer magazine, and through electronic and print books from the leading content marketing experts.
###