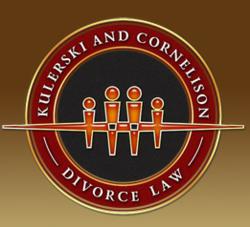 The Law Firm of Kulerski and Cornelison has offices in downtown Chicago (Cook County) and in suburban Oak Brook (DuPage County), IL.
Oak Brook, Illinois (PRWEB) July 31, 2011
The Oak Brook and DuPage County, Ill. law firm of Kulerski & Cornelison have accepted an invitation from ABC TV-7 to serve as their local divorce expert, and to answer questions and offer advice via the news channel's website. With more than 60 years' experience in the Illinois divorce system, J. Richard Kulerski and Kari Cornelison are well suited to their new role as legal advisors for the station.
Channel 7 viewers can go to ABC TV's website and click on I Need Advice Now for answers to their questions about divorce, legal separation, paternity, custody, child support, and alimony. While Kulerski & Cornelison serve as WLS TV-7's DuPage County divorce law connection, law partners J. Richard Kulerski and Kari L. Cornelison will also answer questions from viewers in Cook County, Ill.
This is not the first media experience for the firm. Mr. Kulerski and Ms. Cornelison have previously served on Fox TV's Channel 32 Ask the Experts panel, and also as co-editors of the Chicago Tribune's Chicago Now The Way We War blog. In addition, the two maintain a blog on the firm's website, where they offer advice designed to reduce the stress commonly associated with divorce.
The opportunity to help divorcing couples by answering questions in a public venue falls in line with the firm's overall mission: to keep divorce civil, affordable, and out of court. As strong advocates for collaborative and cooperative divorce law and trained mediators, Kulerski and Cornelison consider it their job to "make sure the legal system doesn't add to your problems or make your divorce more complicated than it has to be." Mr. Kulerski goes on to say, "We believe that going to trial in divorce should be your last resort and that fighting and nastiness should not be the routinely accepted norm."
For more information call 630-928-0600, or visit civilizeddivorce.com. Questions can also be directed to either Kari L. Cornelison (kc(at)illinoislegal(dot)com) or to J. Richard Kulerski (rk(at)illinoislegal(dot)com).
###