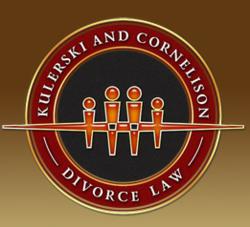 The Law Firm of Kulerski and Cornelison has offices in downtown Chicago (Cook County) and in suburban Oak Brook (DuPage County), IL.
Oak Brook, IL, USA (PRWEB) November 21, 2011
The holiday season is stressful enough without the added tension divorce brings. The Law Firm of Kulerski and Cornelison provide timely tips for keeping the peace among divorcing couples and helping kids cope with their new home life.
The holidays, while generally viewed as a happy time with family and friends, takes on a new facade when there is divorce involved. Overcoming the tension this time of year with its major lifestyle changes can be done by keeping in mind a few simple pieces of advice.
"Try to make the special days as close to normal as possible," says Kari Cornelison. "If this is the first holiday where the parents are living apart, make decisions about who is going where ahead of time so you can prepare the kids. The last thing you want to do is surprise them, leaving the association of an unhappy situation with a treasured holiday."
If parents are both living apart and have new significant others, these two changes may garner a lot of stress for the children, especially the younger ones. Not only may they be confused about the overall situation, but the introduction of a new person into the mix can bring about a whole new set of issues to deal with. The emphasis should be on a new member in the relationship, not the replacement of the other parent.
Cornelison also shares this: "Don't go overboard and buy elaborate gifts, trying to 'one up' the other parent. Children are a lot smarter than we give them credit for – even the young ones – and this is going to make the confusion much worse. In fact, the children may come to resent the parent who is playing this game."
As the parents both move forward in your lives, it's ok to think about putting in place some new traditions of their own with the kids. Keep celebrations as they should be – with all the trimmings including special meals, decorations, gift exchanges, etc. Give reassurances when it comes to extended family. After all, grandma will still be grandma and visits to these family members are still going to be a special time as well. "Again, the most important step you can take to make this time of year the easiest on everyone involved is to keep things as uneventful as possible," states Kari Cornelison.
For more information call 630-928-0600, or visit civilizeddivorce.com. Questions can also be directed to either Kari L. Cornelison (kc(at)illinoislegal(dot)com) or to J. Richard Kulerski (rk(at)illinoislegal(dot)com).
###