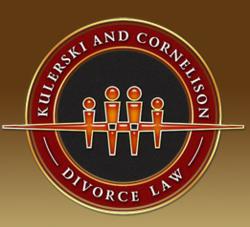 The Law Firm of Kulerski and Cornelison has offices in downtown Chicago (Cook County) and in suburban Oak Brook (DuPage County), IL.
(PRWEB) September 19, 2011
For years, traditional legal contact between a prospective client and an attorney involved a series of phone calls and probably one or more face-to-face meetings. However, the arrival of the World Wide Web has changed the path down which those seeking legal advice can now go. It offers easier access by the consumer to seek and receive help even before a formal first contact with a prospective attorney takes place.
Recently, the web site of attorneys J. Richard Kulerski and Kari L. Cornelison unveiled a new look. With its redesign, http://civilizeddivorce.com now provides more information than ever before. It features such sections as understanding divorce in plain English (without the legal jargon), and how family law and kids go hand-in-hand. It's updated "user-friendly" navigation allows for any user - even one with a minimal amount of Internet knowledge - to find, search and use the site to the fullest extent possible.
To accompany their updated web site, these legal practitioners are sharing an even bigger wealth of free information with the greatest number of people. This is achieved via their new blog, http://dupagedivorcelawyerblog.com. "This blog is an excellent vehicle for us to impart our knowledge to consumers who may have either general questions or want details on specific topics," says Cornelison, DuPage Divorce Lawyer. "One of the greatest benefits for us, and those we serve, is how our blog now enables a simple way to keep on ongoing stream of information moving between our offices and the general public."
Statistics about blogging show that the trend of posting information has became the mainstream for both personal and business communication. According to eMarketer.com, the number of blog readers in the US will reach 122.6 million in 2011, representing 53.5% of Internet users. This is expected to climb to 60% by the year 2014. "These stats confirm that moving our web presence to include a blog element is going to allow us to help more people than ever before," states Cornelison.
In addition to their updated web site and new blog, the Law Firm of Kulerski and Cornelison has been featured in the popular Huffington Post as well as local TV station WLS-Channel 7. Their previous relationships include articles and interviews with the Chicago Tribune, Fox Channel 32 news, and as contributors to the Chicago Cooperative law column in the Examiner.
For more information call 630-928-0600, or visit civilizeddivorce.com. Questions can also be directed to either Kari L. Cornelison (kc(at)illinoislegal(dot)com) or to J. Richard Kulerski (rk(at)illinoislegal(dot)com).
###