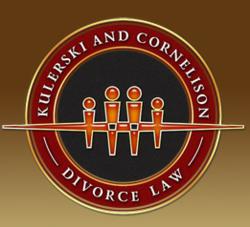 The Law Firm of Kulerski and Cornelison has offices in downtown Chicago (Cook County) and in suburban Oak Brook (DuPage County), IL.
Oak Brook, Illinois (PRWEB) October 31, 2011
The Law firm of Kulerski and Cornelison has some suggestions for clients struggling with one of life's most difficult decisions – one that's made even more trying by hard economic times. Divorce can be as simple as splitting up a few assets and each party going on their way. Yet it can also be as complicated as custody disputes and division of assets. Toss into the mix a bad economic climate and what seemed routine may now be an involved undertaking.
According to the latest study from the National Marriage Project at the University of Virginia, 29% of Americans believe that the most recent recession has deepened their commitment to their marriage. It also found that 39% who were considering divorce prior to the recession had put those plans aside.
There are many factors when making the decision to get divorced. Attorney Kari Cornelison of the Law Firm of Kulerski and Cornelison has these recommendations. "First, decide what you really want based upon how each party is going to live once the marriage is dissolved," she shares. "You're probably not going to walk out of the situation free from debt, and your nest egg may be completely gone when all is said and done. Therefore, each party should have a plan for the future."
Next, Ms. Cornelison suggests that you "know all your options by contacting an attorney to find out what these options are" and be prepared to discover that you may potentially have to wait until financial times are better. "There's no way to know what's going to happen so the focus needs to be on what's happening now and how each party will be affected," she states.
If you find you have to wait, obtain some support to help all parties, such as starting or continuing therapy. This can help to address the issues the financial climate has caused and whatever is on the horizon. This includes learning how to identify what is and is not under your control. Your finances are under your control: how the world is going to bounce back really is not.
Finally, try to find the good in the situation as it is now. If you have made the determination that this is not the right time to divorce, live your life as you would if the marriage were over and you had each moved on. Live in the same home but with boundaries, share responsibilities for the kids, and come to an agreement about finances.
The economy is not going to change overnight. It is a slow and sometimes frustrating process, just as divorce can be.
For more information call 630-928-0600, or visit civilizeddivorce.com. Questions can also be directed to either Kari L. Cornelison (kc(at)illinoislegal(dot)com) or to J. Richard Kulerski (rk(at)illinoislegal(dot)com).
###