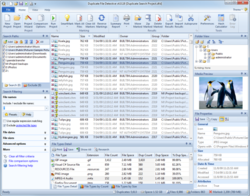 New features include native 64-bit support and file hash caching...
Traverse City, MI (PRWEB) April 28, 2011
Duplicate File Detective uses advanced file comparison technology to find duplicate files of any type. Duplicate files can be selected for removal with the assistance of Duplicate File Detective's SmartMark™ technology - and then safely moved, deleted, or archived (zipped) to reclaim wasted disk space.
New features in Duplicate File Detective 4 include native 64-bit support and file hash caching - two technologies that leverage the power of modern computing environments to improve performance and scalability. Also new is support for finding duplicate songs through the analysis of audio file metadata fields known as tags, allowing users to find duplicate songs by title, artist, album name, and more.
Duplicate File Detective 4 also includes support for analyzing the content of zip archives, a new media preview window, extended name and extension based file comparison options, and the ability to remove empty parent folders that are the result of moving, delete, or archiving duplicate files.
Duplicate File Detective 4 runs on Windows XP, Vista, 7, Server 2003, and Server 2008. Pricing starts at $40.00 USD for a single-user license, with discounted multi-user and site-wide licensing options also available. Duplicate File Detective 4 can be downloaded from http://www.duplicate-file-detective.com, with a free 15-day (feature complete) trial period available to new users. Contact sales(at)duplicate-file-detective(dot)com for more information.
# # #