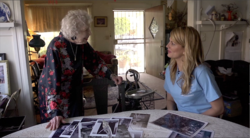 In a country where we have an abundance of resources, we need to all do our part. We can and should end senior hunger in this country
Los Angeles, CA (PRWEB) October 13, 2011
Recently, Courtney Hansen, host of Spike TV's number one automotive "how-to" series "PowerBlock," rolled up to St. Vincent's Meals On Wheels kitchen to prepare and deliver meals to one of the many local chapters. The organization serves 4,700 meals daily to homebound senior citizens and is a member of the national Meals on Wheels Association of America (MOWAA), which serves over 1,000,000 meals to seniors in communities around the country. It's an incredible feat made possible only because of its many volunteers and donors.
"The Meals on Wheels Association of America has local chapters like St. Vincent's all over this great country of ours. It's cool to think that over 1,000,000 meals are served by individuals in their own cars every day - in every corner of America. There is such a need for everyone to get involved. In a country where we have an abundance of resources, we need to all do our part. We can and should end senior hunger in this country," said Courtney Hansen.
There are a variety of ways to get involved with Meals on Wheels Association of America in any neighborhood: work in the kitchen, deliver meals or, join Dupli-Color in raising over $50,000 to help Meals On Wheels fight senior hunger in America. Meals On Wheels Association of America is partnering with the popular automotive coatings company Dupli-Color® Products for their "Find Your Color. Help Another." campaign. From now until the end of this year, Dupli-Color will donate $1 every time a consumer enters their Vehicle's Paint Color Code on the Dupli-Color Facebook page. For more information go to facebook.com/duplicolor today!
About Courtney Hansen: Courtney Hansen has been in the television business for years, hosting automotive shows, gracing magazine covers and has served as a product spokesperson for many automotive brands. Best known as the host of Spike TV's "Powerblock" where Ms. Hansen is seen every Saturday and Sunday leading discussions on cars with celebrity guests. Ms. Hansen is an avid writer, actress and model, but her charitable contributions are what set her apart from the crowd.
About Meals On Wheels Association of America: The Meals On Wheels Association of America (MOWAA) is the oldest and largest national organization in the United States representing those programs that provide meals to people in need. MOWAA's mission is to end senior hunger by 2020. To obtain more information about MOWAA or to locate a local Meals On Wheels program, visit the MOWAA website at http://www.mowaa.org.
About Dupli-Color: For more than 70 years, Dupli-Color has been the trusted brand leader in providing consumers with easy-to-use, innovative and exact-color matched paint and coating products to restore, restyle and protect automotive vehicles. Dupli-Color is the market share leader and the top selling do-it-yourself paint and coatings brand in the automotive aftermarket. Located in Cleveland, Ohio, Dupli-Color is a part of The Sherwin-Williams Company Diversified Brands Division.
###