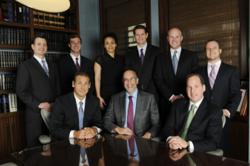 These are tragic cases that include serious injuries, not only for the victims, but for the entire family.
New York, NY (PRWEB) June 19, 2013
The experienced personal injury attorneys at Gersowitz, Libo & Korek, P.C. are investigating DuPont C8 lawsuits on behalf of individuals allegedly exposed to C8 contaminated drinking water associated with DuPont's Washington Works Plant in Parkersburg, West Virginia.
The firm reports that DuPont C8 exposure lawsuits already filed by injured victims have been consolidated in a multidistrict litigation and transferred to the U.S. District Court, Southern District of Ohio. According to a Transfer Order issued by the U.S. Judicial Panel on Multidistrict Litigation (JPML) on April 8th, the DuPont C8 lawsuits currently consist of 26 actions, all of which were originally filed in federal courts in Ohio or West Virginia. (In Re: E.I. Du Pont De Nemours and Company C-8 Personal Injury Litigation, MDL No. 2433.)
According to the Panel's Transfer Order, each of the DuPont C8 lawsuits allege wrongful death or personal injury resulting from exposure to water that is contaminated with C8, also known as Perfluorooctanoic acid (PFOA), a processing agent involved in the manufacturing of Teflon and other consumer products. It is not the use of this chemical that resulted in these serious injuries, rather the exposure to the large amounts of C8 that were emitted from the plant and contaminated the groundwater in West Virginia and large amounts of C8 in landfills and in the Ohio River, which contaminated the surrounding communities, the Transfer Order said.
According to an April 26, 2013 report published in the Gallipolis Daily Tribune, the following six districts near the DuPont Washington Works Plant were found to have C8 contamination in their their drinking water:

Little Hocking, Ohio
City of Belpre, Ohio
Tuppers Plains, Ohio
Village of Pomeroy, Ohio
Lubeck Public Service District, West Virginia
Mason County Public Service District, West Virginia
According to a July 30, 2012 Sunday Gazette-Mail article, the lawsuits prompted the formation of a scientific panel of three epidemiologists in 2005 to investigate "probable links" between C8 exposure and health complications. The article further noted that the C8 Scientific Panel has since issued reports linking C8 to the following injuries and illnesses:
Diagnosed high cholesterol
Kidney disease
Thyroid cancer
Ulcerative colitis
Pregnancy-induced hypertension (including preeclampsia)
"These are tragic cases that include serious injuries, not only for the victims, but for the entire family," commented Jeff Korek, a Gersowitz, Libo & Korek, P.C. "Although filing a lawsuit will not undue the wrong, it will bring a sense of justice and pay for high medical bills."
About Gersowitz, Libo & Korek, P.C.
The personal injury lawyers at Gersowitz, Libo Korek & P.C. have devoted the past 25 years to helping injured victims get the maximum compensation they deserve for the injuries they have suffered. They have the knowledge, experience and resources to successfully pursue all types of toxic torts.
The accident lawyers at Gersowitz, Libo & Korek, P.C. are committed to the relentless pursuit of victims and their loved ones' rights. They urge anyone in need of assistance who has suffered an injury or illness due to the exposure to C8 chemicals to immediately contact them.
Contact:
Jeff S. Korek
Gersowitz Libo & Korek, P.C.
111 Broadway, 12th Floor
New York, NY 10006
Phone: (212) 385-4410
http://www.lawyertime.com