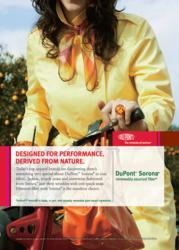 Shanghai (PRWEB) October 21, 2012
DuPont™ Sorona® will showcase a variety of new applications in apparel at the upcoming Shanghai Intertextile Show, China's International Trade Fair for Apparel Fabrics and Accessories. The DuPont Sorona® Boulevard exemplifies the creative partnerships DuPont has developed to bring solutions to market, bringing together a collection of apparel value chain partners from fiber spinners to insulation producers and fabric mills from China, Taiwan, Korea, and India. A total of 15 apparel industry partners will exhibit their products made with Sorona® at the DuPont Sorona® Boulevard in Hall W3 of the Shanghai New International Expo Center. The DuPont Sorona® showroom in Hall W3, E64/F67 and D66/E65 will also showcase all the new applications including: comfort stretch trousers and jeans, seamless apparel, swimwear, and wrinkle release jackets.
"Combining our experience and knowledge in biobased technology with the expertise of all the companies showcased in the DuPont Sorona® Boulevard is a tremendous accomplishment," said Dennis Tsai, Asia Pacific regional director, DuPont Biomaterials. "We continue to demonstrate that products made with DuPont™ Sorona® offer performance and environmental benefits that are unmatched in the market today."
Sorona®, a breakthrough high-performance fiber, offers exceptional softness, comfort stretch and recovery, as well as chlorine and UV resistance in vivid color fabrics designed for easy care. All qualities that are appealing to designers who place a high value on quality and the ability to respond quickly to changing market needs. What's more, by replacing a traditionally petrochemical-based ingredient with one made with a renewably sourced ingredient, the production of Sorona® requires 30 percent less energy and reduces greenhouse gas emissions 63 percent compared to the production of an equal amount of nylon.
The new fiber developments using DuPont™ Sorona® are ideal for:

Trousers & Jeans - Comfort stretch staple fiber made with Sorona® can be blended with a variety of cellulosic fibers (e.g. cotton, wool or rayon) to create fabrics that provide comfort stretch with excellent recovery and natural touch with volume hand feel. It is a perfect fiber solution for stretch khaki, denim and dress pants and suits.
Seamless Apparel – In addition to its low temperature dye and finish manufacturing conditions, draw textured yarn (DTY) with Sorona® also offers outstanding texture and cottony softness. Air jet textured yarn (ATY) made with Sorona® provides great color fastness even after repeated washes and exposure to UV, resulting in bright or neon colors that dry faster in seamless applications. It's ideal for seamless underwear, sport tees and leisure wear, applications where comfort is paramount.
Swimwear – Sorona® filament fiber for swimwear has a unique soft hand, plus outstanding UV- and chlorine-resistant performance that stands up to color fading after frequent uses.
Wrinkle release jackets – Only authentic shape memory made with DuPont™ Sorona® provides permanent wrinkle release performance. Sorona® filament fiber has a unique volume hand with built-in wrinkle release performance for easy care. And now, Sorona® in full dull luster offers another perfect look for trench coats and outerwear.
DuPont (NYSE: DD) has been bringing world-class science and engineering to the global marketplace in the form of innovative products, materials, and services since 1802. The company believes that by collaborating with customers, governments, NGOs, and thought leaders we can help find solutions to such global challenges as providing enough healthy food for people everywhere, decreasing dependence on fossil fuels, and protecting life and the environment. For additional information about DuPont and its commitment to inclusive innovation, please visit http://www.dupont.com.
10/22/12
The DuPont Oval Logo, DuPont™, The miracles of science™ and Sorona® are registered trademarks or trademarks of DuPont or its affiliates.