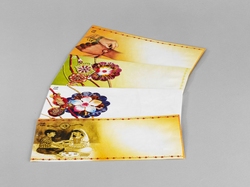 Every day DuPont™ Tyvek® envelopes help millions of consumers and businesses, organizations and institutions by delivering high quality and reliable performance
New Delhi, India (Vocus) August 14, 2008
DuPont today announced its latest partnership to develop customized solutions for shipping and posting consumer and business packages. The company is working with India Post to create protective envelopes for its Speed Post and Insured Post services -- the first such offerings in India.
Made of DuPont™ Tyvek® brand protective material, a nonwoven innovation from DuPont, the envelopes provide security and protection for their contents. Tyvek® has unique qualities including resistance to water, tears and abrasion, soft and smooth textures for printability, light weight and customized tamper-evident features.
DuPont™ Tyvek® envelopes are used around the world by shipping companies and postal authorities, including the U.S. Postal Service and French La Post, among others. The lighter weight of Tyvek®, as compared to paper products, helps lower operating costs by keeping mail volumes below weight thresholds and by assuring that mail arrives securely, wherever the destination.
"Every day DuPont™ Tyvek® envelopes help millions of consumers and businesses, organizations and institutions by delivering high quality and reliable performance," said Barry M. Granger, vice president and general manager -- DuPont Nonwovens. "DuPont has used its innovative science to create solutions for India Post with the lightweight strength and durability Tyvek® envelopes can deliver."
"With the introduction of the new DuPont™ Tyvek® speed post envelopes, customers will find it convenient to send documents and letters through Speed Post. We expect this to enhance growth for our Speed Post business, which currently deals with 1.7 crore (10.7 million) consignments per month and grew by about 30 percent last year," said John Samuel, general manager - business development, India Post.
The customized DuPont™ Tyvek® envelopes will improve the protection and reliability offered by Speed Post and Insured Post services of India Post to its users. The envelopes initially will be sold at the post offices and then as customized Tyvek® envelopes for corporate customers. They will be available at 290 Speed Post Centres in India's national network and across more than 1,000 Speed Post Centres in the state network. The Speed Post service, launched more than 20 years ago by India Post, is a leader in its segment with business customers -- a key market.
Tyvek® properties make it ideal for use across diverse markets and industries, including protective garments, envelopes, tags and labels, indoor and outdoor signs and banners, sterile medical and industrial packaging as well as bags, maps and car covers. Additional Tyvek® applications include construction products such as Tyvek® HomeWrap®, which increases comfort and reduces energy costs by sealing a home's envelope; ThermaWrap™, which improves the reflection of radiant energy in wall systems; and Tyvek® AtticWrap™, which is the first breathable roofing membrane to create an airtight envelope.
DuPont is a science company. Founded in 1802, DuPont puts science to work by creating sustainable solutions essential to a better, safer, healthier life for people everywhere. Operating in more than 70 countries, DuPont offers a wide range of innovative products and services for markets including agriculture, nutrition, electronics, communications, safety and protection, home and construction, transportation and apparel.
The DuPont Oval Logo, DuPont™, The miracles of science™ and Tyvek® are registered trademarks or trademarks of DuPont or its affiliates.
###