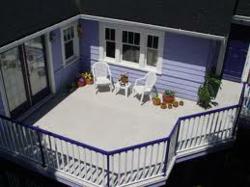 Millions of square feet of Duradek Vinyl Decking has been installed. Tried, tested and true.
Vancouver, British Columbia (PRWEB) April 29, 2012
Square footage has always been a primary consideration for determining the value of residential property. Long-term trends in the real estate market however, have pointed toward the development of smaller, more practical living spaces. This is especially true in urban environments.
Interestingly, CNN recently reported that 30% of home buyers in the United States are cash-buyers. Coupled with a softer housing market and it's clear those now shopping for new homes are savvy buyers. Total square footage is less of a concern to these buyers, yet usable living space is of concern because it holds its value. It's not that consumers want to live in smaller homes necessarily; they're simply unwilling to pay for wasted space. Now instead, they are choosing homes that better fit their needs and absolutely maximize the value of every square foot.
Moving away from the McMansions we've seen over the past decade could prove to be a really positive step, after all much has been made of the sustainability of the supply of building materials at the rate the North American housing market has demanded.
Responding to demand, developers across the continent are using tricks learned from crowded metropolitan centers. Cities like New York, Los Angeles, and Baltimore have already learned the value of adding extra space to condensed housing with things like rooftop decks and patios. What's more these innovative solutions have in many cases added usable space to the housing below, good news for both the Developer, and home buyer. These innovative solutions offered in metropolitan areas are driving a high demand for many of these properties. Now smaller metropolitan centers and adjoining communities are following suit.
The Rivercrossing Townhome Community in Logan, Utah is one example of a recent development following this trend. Surrounded on three sides by the Logan River, and Logan River Golf course, DRD Development decided to incorporate a waterproof vinyl rooftop decking into their plans so that the owners might enjoy these vistas. The Duradek PVC membrane used will keep maintenance low, while adding to the value of the home by increasing the entertainment space available.
"We wanted the Rivercrossing Townhomes to be different than any other community in the state" said David Rupp, Partner in DRD Property Development. "Especially with a limited supply of homes with this feature… it will always be in demand." Those that purchased into the community are now able to enjoy barbecues, patio gardening, or even a quick dip in the hot tubs on their semi-private roof top deck.
While the roof top deck is a relatively new concept in many areas, Duradek has been specializing in waterproofing and improving roof top decks for nearly four decades. Speaking of their product, John Ogilvie, President of Duradek said, "This product is tough, it can put up with pets, kids, dragging furniture, and you'll never put a hole in it." He added, "[It's] maintenance free, no painting, no scraping, no annual maintenance at all besides a periodic washing."
The popularity of smaller homes has soared as they are easier and cheaper to maintain. They also require fewer resources to heat and cool them. In a survey conducted by Better Homes and Gardens, 69% of participants reported that a "no-space-wasted" design, and ample storage, would take on more importance in their next home.
Adding a durable outdoor living environment to a project allows developers to add space, while avoiding the problems associated with over sized dwellings.
Those types of benefits and potential return on investment add up for prospective homeowners, developers, and investors alike.
About Duradek
Duradek is a well-known brand across North America. Since 1974 they have established themselves as an industry leader in the manufacture of innovative decking material solutions. Duradek vinyl has gained wide acceptance in the construction industry as the ultimate in maintenance-free outdoor flooring.