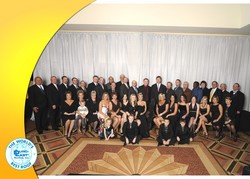 Duro-Last is extremely proud of the accomplishments of our group of contractors, especially given the nation's economic challenges in 2009
Saginaw, MI (Vocus) February 5, 2010
Duro-Last® Roofing, Inc., hosted its annual Sales Seminar in Tucson, Arizona, January 25 – 27, 2010. Over 730 guests representing more than 150 authorized Duro-Last roofing contractors attended the Seminar, which was held at the Westin La Paloma Resort and Spa.
The theme for the 2010 Seminar was Partners for a Strong Tomorrow, chosen to recognize the importance that Duro-Last places on the unique, direct relationship the company enjoys with its network of authorized contractors. Many contractors have been partnering with the manufacturer since Duro-Last's beginnings more than 30 years ago, driving the company to its leadership position in the single-ply roofing marketplace.
At the Seminar, Parsons Commercial Roofing of Waco, Texas, was awarded the Contractor of the Year award for the fourth consecutive year. In 2009, Parsons passed the $7 million dollar level in Duro-Last sales for the third year in a row. With this achievement, Parsons now has the most total sales of any Duro-Last contractor in history.
"Duro-Last is extremely proud of the accomplishments of our group of contractors, especially given the nation's economic challenges in 2009," said Duro-Last Chairman of the Board Jack Burt. "We continue to enjoy tremendous success in the marketplace because of the quality workmanship, professionalism, and the dedication of these companies. We are very fortunate to have them as authorized contractors."
Duro-Last's National Sales Seminar also included a significant educational component, including new product, sales, and marketing information. General Sessions featured guest speakers Scott McKain and Steve Gilliland. Breakout Sessions included presentations from Duro-Last staff and guests Onlee Bowden and Tony Rubleski.
The Duro-Last 2011 National Sales Seminar will be held January 30 – February 1, 2011, in Orlando, Florida, at Disney's Contemporary Resort.
With corporate headquarters and a manufacturing facility in Saginaw, Michigan as well as other locations in Grants Pass, Oregon; Jackson, Mississippi; and Sigourney, Iowa, Duro-Last® Roofing, Inc. is the manufacturer of the "World's Best Roof"®. Since 1978, Duro-Last has produced a custom-fabricated, thermoplastic single-ply roofing system that is ideal for any flat or low-sloped commercial or industrial building. Energy-efficient and extremely durable, the Duro-Last roofing system is also leak-proof, virtually maintenance-free and resistant to chemicals, fire, punctures, and high winds. In addition to the Duro-Last roofing system, the company's brands include the Duro-Last Cool Zone®, the Duro-Shield metal retrofit, and the Duro-Last Designer Series roofing systems. For more information, contact Fred Sitter at 800-248-0280 or visit http://www.duro-last.com.
###