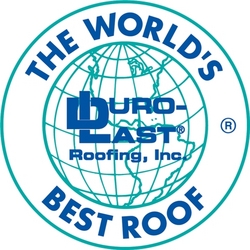 We're excited to partner with the Institute on this seminar program
Saginaw, Michigan (Vocus) August 7, 2009
Duro-Last® Roofing, Inc. is pleased to announce its sponsorship of the six-city seminar series: ''Renovating for Profit: Uncovering the Big Green ($) Value Proposition When Renovating Existing Buildings.'' The program is being hosted by The Corporate Realty, Design & Management Institute (CRDMI).
"We're excited to partner with the Institute on this seminar program," said Duro-Last Marketing Director Fred Sitter. "CRDMI President and featured speaker Alan Whitson is a recognized, credible authority on commercial facilities management, particularly with respect to high-performance building technology. This seminar series will provide an ideal venue for Duro-Last to communicate the value of our roofing system as it relates to building renovation projects and sustainability goals."
The 2009 Green Into Gold Renovating for Profit seminar series is scheduled for September 3 in Columbus; September 18 in Boston; September 25 in San Francisco; September 29 in Houston; and October 6 in Atlanta. A seminar date for Dallas is pending.
For more information about the Renovating for Profit series visit the Institute's web site: http://www.squarefootage.net/2009renovateforprofit.htm . To learn more about why the Duro-Last roofing system is the best green roof choice for commercial facilities, visit http://www.whiteequalsgreen.com .
With corporate headquarters and a manufacturing facility in Saginaw, Michigan as well as other locations in Grants Pass, Oregon; Jackson, Mississippi; and Sigourney, Iowa, Duro-Last® Roofing, Inc. is the manufacturer of the "World's Best Roof"®. Since 1978, Duro-Last has produced a custom-fabricated, thermoplastic single-ply roofing system that is ideal for any flat or low-sloped commercial or industrial building. Energy-efficient and extremely durable, the Duro-Last roofing system is also leak-proof, virtually maintenance-free and resistant to chemicals, fire, punctures, and high winds. In addition to the Duro-Last roofing system, the company's brands include the Duro-Last Cool Zone®, the Duro-Shield metal retrofit, and the Duro-Last Designer Series roofing systems. For more information, contact Fred Sitter at 800-248-0280 or visit http://www.duro-last.com .
###