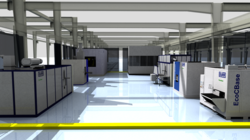 ...Dürr Ecoclean can provide accelerated delivery for its parts washers as a result of this investment.
Wixom, Mich. (PRWEB) July 18, 2012
Customer cleaning trials can be conducted locally at the Wixom facility in a variety of Dürr manufactured parts washers using different cleaning technologies. The results can be checked locally by Dürr with cleanliness tests and analysis. By eliminating the need to ship customer parts overseas to similar labs in Germany, a test process that used to take weeks can now be completed in days. When production timing is critical, Dürr Ecoclean can provide accelerated delivery for its parts washers as a result of this investment.
Dürr Ecoclean has experienced unprecedented growth in the USA since 2010. The company recognized the need to invest further in this expanding market and leverage its strengths in the supply of best-in-class chamber washers. While the USA test center can be used for cleaning trials and results analysis, customers have also hired Dürr to perform contract cleaning in its test machines. Contract cleaning services are ideal when a machine purchase or lease is impractical due to a short production run, or when cleaning a limited supply of prototype parts.
For several years, Dürr industrial washers in the USA were seen primarily as an environmentally-friendly alternative to traditional vapor degreasing. While it is true that Dürr's Green Degreasing™ technologies exceed stringent EPA and OSHA standards and are even BACT-approved (Best Available Control Technology) for use in California, their aqueous line of chamber washers were rarely given focus in this country. Today, by contrast, Dürr's USA test lab will have three different aqueous cleaning models in which to conduct part trials. Additionally, there will be two Green Degreasing™ chamber units for parts having residual oils, greases, and chips. One unit degreases with non-halogenated hydrocarbons, and the other uses polar solvents. The USA test center expansion will be completed by September 2012.
About Dürr Ecoclean:
Dürr Ecoclean Group is the leading provider of industrial cleaning, automation and filtration solutions. The group provides innovative standard equipment, custom-designed system solutions and services to the automotive industry and its suppliers, as well as to general markets around the globe. As a member of the Dürr group of companies, Dürr Ecoclean maintains operating sites in Germany, France, Czech Republic, the U.S., China and India.
Dürr is a mechanical and plant engineering group that holds leading positions in the world market in its areas of operation. It generates a good 80% of its sales in business with the automotive industry. It also supplies the aircraft, machinery, chemical, and pharmaceutical industries with innovative production and environmental technology. The Dürr Group operates in the market with four divisions. Paint and Assembly Systems plans and builds paintshops and final assembly systems for the automobile industry. Application Technology provides automated paint application, sealing, and gluing with its robot technologies. Machinery and systems from the Measuring and Process Systems division are used in engine and transmission manufacturing and in final vehicle assembly, among other areas. The fourth division, Clean Technology Systems, is focused on processes to improve energy efficiency and on exhaust air purification. Dürr has 50 business locations in 23 countries worldwide and approximately 7,100 employees. The Group achieved sales of € 1.9 billion in 2011.