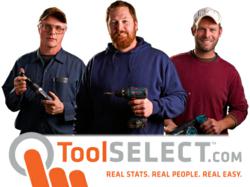 "If you've ever worked with wood, you know the importance of a dust collection system"
Grand Rapids, MI (PRWEB) February 21, 2012
Dust collection systems are extremely important to woodworkers of all levels, and the launch of the new DELTA® 1 ½ HP Portable Cyclone Dust Collector will give the ToolSelect community another tool to review and discuss.
The dust collector uses a chip-barrel system and uses a cyclonic action to separate and force large particles into the 32-gallon chip barrel. At the same time, a 1-micron canister filter traps small dust particles.
"If you've ever worked with wood, you know the importance of a dust collection system," says Tom Klein, vice president of marketing and merchandising with ToolSelect. "A good dust collector makes for a convenient, hassle-free job while a bad one does nothing but create more problems. Our members will be quick to share their unbiased opinions on this new DELTA® system."
The new DELTA® Cyclone Dust Collector claims a 1 ½ HP, 240V, 1-phase motor that produces 10 inches of static pressure with 810 CFM restricted and 1,638 CFM unrestricted. A 120V control-box conversion kit is also available.
The chip-barrel system requires no tools to empty the bag, rather using a bail-type handle to lift the barrel into position for operation and drop it for easy access and bag disposal.
This dust collection system comes with a barrel, two dust-port covers, one canister filter, two plastic dust bags, three plastic chip bags and four locking wheels and is backed by a five-year warranty.
About ToolSelect
ToolSelect is an unbiased community powered by its members that covers all aspects, types and brands of tools, but does not actually sell any tools. ToolSelect's members include everyone from experienced tradesmen to complete novices. Users trade tips, compare notes, debate their favorite tools and work together to help each other make intelligent purchasing decisions.
About DELTA®
Based in Anderson, South Carolina, DELTA® Power Equipment Corporation designs and manufactures stationary and benchtop woodworking machinery and dust management systems, and related accessories for professional woodworkers. DELTA® Power Equipment Corporation is a wholly-owned subsidiary of Chang Type Industrial Co. Ltd., a Taiwan-based manufacturing company (Taiwan Stock Exchange symbol: 1541.tw).
# # #