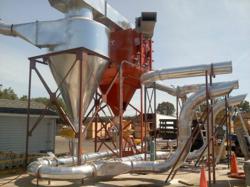 Aquest Corporation has the capability to design and fully integrate systems so that a customer only has to deal with one supplier. -Phil Roland, President at Aquest Corporation
Somers, CT (PRWEB) December 20, 2012
Dust collectors have been an important part of manufacturing processes for many years. In the past few years, dust collections have taken on a new look.
Recently, OSHA has promulgated new regulations that have affected the way dust collection systems are designed and installed.
The OSHA National Dust Emphasis program and NFPA 654 have introduced new regulations for the removal of combustible dust.
Aquest Corporation has been at the forefront of these changes and has designed and engineered dust collectors and systems that are OSHA Compliant.
OSHA fines have been given to companies that are not up to code on their dust collection systems and equipment.
Dust Collection systems must be accompanied with a secondary explosion damper and spark detection and suppression in spark producing processes.
Dust Collectors must have an explosion panel or deflagration vent to prevent the dust collector from exploding and producing shrapnel.
Also, when transporting combustible dust, feet per minute in a duct (FPM) must be 4,500 FPM. This ensures there will not be any settling of dust in the duct.
Aerospace and defense manufacturers all over New England were hit hard by these changes in the collection of combustible dust.
In the Aerospace industry, titanium, aluminum, magnesium and other combustible metals are heavily used.
The National Dust Emphasis Program and NFPA 484 made it mandatory for manufacturers to use wet collectors when collecting certain combustible metals.
A wet collector is a safe alternative and efficient way to collect metal dust. It uses an internal water baffle system to remove particulate from the airstream.
Wet collectors are designed for Lean, Kaizen and cellular manufacturing and can be very cost-effective because air can be exhausted in a building.
It is important to be familiar with the regulations, and Aquest Corporation is a recognized expert. Site visits and consultation are provided by Aquest at no cost.