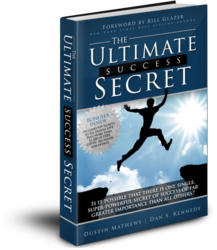 Tampa, FL (PRWEB) April 06, 2013
Internet marketing expert Dustin Mathews and best selling author Dan S. Kennedy, also know as the renegade marketer, recently inked a deal to write the book on success.
"The irony of this project is that fellow co-author, Dan Kennedy, is famous for his anti-internet stance and I'm known as the Champion of the Internet Movement. In addition, we'll be heavily promoting our book via the internet," explains Mathews.
Dustin went on to add, "If we agreed on everything, one of us would be irrelevant. The "Ultimate Success Secret" is a collaboration of our real world experience building our own businesses and guiding other multi-million dollar earners in doing the same."
This book addresses the question on everyone's mind, "Is it possible that there is one single, super-powerful secret of success of far greater importance than all others?"
Dan Kennedy's response on how The Ultimate Success Secret is different from other books on success "…my focus had been quite different than Napoleon Hill's. I have paid a lot less attention to the thinking of the success and paid a lot more attention to their behavior."
About the Authors
Dustin Mathews is widely recognized as the Champion of the Internet Movement. His unique ability to create "marketplace frenzies" that drive people to buy products and services in mass has made him a highly sought-after internet marketing expert. In the last seven years he's helped two different companies reach Inc. Magazine's coveted Fastest Growing Companies list and has been responsible for generating over $25 million in sales in the Information Marketing industry.
Dan S. Kennedy is a multi-millionaire, serial entrepreneur now directly influencing more than one million business owners annually as an advisor and business coach. Widely celebrated as "the millionaire-maker" with a long track record of taking entrepreneurs to seven-figure incomes and to multi-millionaire wealth, his deliberately provocative, blunt, "No B.S." approach has earned him the title as the "Professor of Harsh Reality."
Nicole Thomas
MVP & Associates
813.938.2160 office
email: Nicole (at) SpeakingEmpire (dot) com
SpeakingEmpire.com
"We are Proud to Support The H.O.M.E Foundation"
About The H.O.M.E. Foundation:
The Helping Others Means Everything, or The H.O.M.E. Foundation, is a not-for-profit organization dedicated to helping our Family of Charities. Frankie Verdugo, President of The HOME Foundation, wants to help as many worthy charities as possible as they struggle during these tough economic times. Frankie Verdugo helps raise funds through luxury dream home raffles, home giveaways, prizes, and high profile celebrity events in Hollywood... "Our mission is to help charities reach their fundraising goals and to bring awareness to their praiseworthy causes."