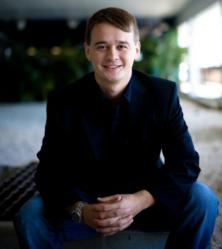 Irvine, CA (PRWEB) April 09, 2013
Dustin Mathews is a best selling author and internet marketing expert who was just featured on CBS Money Watch and The International Business Times. 7 Figure Speaking Empire is proud to announces that Dustin Mathews will be speaking at their upcoming Info-Marketing Workshop in Irvine, CA on June 21-24, 2013. The info-marketing workshop is intended to help business owners improve their information marketing businesses remarkably. Dustin Mathews and Dave VanHoose will coach businesses on how to improve their credibility, generate more leads, and increase sales in this economy. The workshop spans four days, and allow those in attendance unprecedented access to these two info-marketing mentors who are booked months in advance for their intense one-on-one professional speaker training, known as a "Power Day."
For more information, and to register for the event, visit: http://belegendaryevent.com/irvine2013/invite/
About Dustin Mathews:
Dustin Mathews is widely recognized as the Champion of the Internet Movement. His unique ability to create "marketplace frenzies" that drive people to buy products and services in mass has made him a highly sought-after internet marketing expert. In the last seven years he's helped two different companies reach Inc. Magazine's coveted Fastest Growing Companies list and has been responsible for generating over $25 million in sales in the Information Marketing industry.
Dustin is the co-author of How to Get Rich Working For FREE and Online Marketing Secrets Revealed, Secrets of the Real Estate Millionaires, and most recently The Ultimate Success Secret.
In his down time, Dustin enjoys playing tennis and mountain biking with his wife Missy.
Nicole Thomas
MVP & Associates
813.938.2160 office
email: Nicole (at) SpeakingEmpire (dot) com
SpeakingEmpire.com
"We are Proud to Support The H.O.M.E Foundation"
About The H.O.M.E. Foundation:
The Helping Others Means Everything, or The H.O.M.E. Foundation, is a not-for-profit organization dedicated to helping our Family of Charities. Frankie Verdugo, President of The HOME Foundation, wants to help as many worthy charities as possible as they struggle during these tough economic times. Frankie Verdugo helps raise funds through luxury dream home raffles, home giveaways, prizes, and high profile celebrity events in Hollywood... "Our mission is to help charities reach their fundraising goals and to bring awareness to their praiseworthy causes."