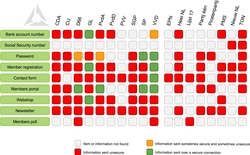 Amsterdam (PRWEB) June 4, 2010
The Dutch political parties which participate in the Parliamentary Elections ignore the Personal Data Protection Act (WBP) massively, according to research from internet protector Networking4all. They examined the websites of the eighteen parties. None of all these sites protects citizens' personal data completely.
Of the 'big' parties mainly the CDA, SGP, the Partij voor de Dieren and the ChristenUnie score very bad. "At the sites of these parties nothing is blocked and sensitive information is leaked," said Paul Brouwershaven, technical director of Networking4all. GroenLinks, SP, VVD, D66 and PvdA seem to have paid most attention to the protection of personal data. "But also on these sites personal data of citizens may simply come into the hands of cyber criminals."
The protection of personal data is legally obligatory in the Netherlands. The WBP requires securing personal data transmission over the Internet. The political parties are committed to this law, shown by the party programs. Although, some parties are sending bank details and social security numbers unprotected over the Internet. "I am wondering how you can take their contention seriously," said Paul Brouwershaven. "There were even questions in Parliament about it, so you may expect that they have at least a secure website of their own."
There has been much to do about privacy. For example, the Electronic Patient Record and the Public transport chip card are material for many discussions. We expected more of the ruling party CDA, which has our Prime Minister as well, who says in its own party program that the government should give the right example in digital developments. Other parties give a wrong signal to leak information as well.
Internet protector Networking4all also presented the research to Wouter Seinen, IT lawyer and principal of CMS Derks Star Busmann data privacy team. He is astonished. "It is incomprehensible that the political parties who talk so much about privacy protection, use home sites and data connections with a bad security." The research of Networking4all shows that citizens should be alert to potential hazards at the web at all times. Even in the legislature.
# # #