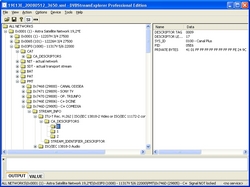 The Free Edition of DVBStreamExplorer caters for those who require DVB PSI/SI scanning and ATSC PSI/PSIP scanning, without requiring the additional features available in the Standard and the Professional Editions. There is currently a serious lack of free DVB/ATSC analyzer tools in the market, and DVBStreamExplorer Free Edition fills up this market gap
Valletta, Malta (PRWEB) July 31, 2009
DVBStreamExplorer, developer of the MPEG-2/DVB Transport Stream Analyzer software that carries the same name, announces the release of DVBStreamExplorer Free Edition, thus completing the DVBStreamExplorer editions line-up. DVBStreamExplorer Free Edition is freely available for download from the DVBStreamExplorer official website.
"The Free Edition of DVBStreamExplorer caters for those who require DVB PSI/SI scanning and ATSC PSI/PSIP scanning, without requiring the additional features available in the Standard and the Professional Editions. There is currently a serious lack of free DVB/ATSC analyzer tools in the market, and DVBStreamExplorer Free Edition fills up this market gap," said Sinclair Calleja, Managing Director of Progsomnia Ltd, the company behind DVBStreamExplorer.
For convenience, DVBStreamExplorer also provides a product walk-through, which provides step-by-step instructions on how to perform the first scan.
In addition to the free edition, DVBStreamExplorer also offers a Standard Edition and a Professional Edition, supporting features such as a real-time Transport Stream Monitor, stream demuxing and capturing to disk, a teletext analyzer, a service player and exporting of analyzed information as a text file or CSV. More information can be found on the Feature Comparison section of the DVBStreamExplorer website.
DVBStreamExplorer Free Edition provides:
1. Scanning of DVB PSI/SI information as defined in ISO13818-1 and EN 300 468;
2. Scanning of ATSC PSI/PSIP information as defined in ISO1318-1 and A/65C;
3. Parsing of PAT, CAT, BAT, NIT, SDT, EIT, TDT, TOT, RST, AIT (MHP), PMT and INT tables, including most descriptors;
4. Displaying of SI information in tree/list view;
5. Unattended scanning of multiple MUXes, i.e. multiple transponders on multiple satellites;
6. Viewing of DVB service information of collected PSI/SI data;
7. A service view organized by satellite position, network id, provider and alphabetic;
8. Filtering functionality to easily locate services with interesting properties, such as MHP, AC3 and H.264 streams.
9. Support for international character sets;
10. Support for a wide range of BDA compatible cards. Non-DBA features are also supported for a number of cards, namely DVBWorld DVB-S 2102 USB, TechnoTrend TT-Budget family, TechnoTrend TT-Connect family and TechnoTrend TT-TVStick. Non-BDA support for Technisat SkyStar2 is included by popular demand.
For more information, one can visit the official homepage of DVBStreamExplorer.
###