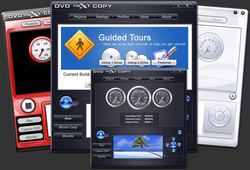 (PRWEB) August 29, 2007
http://www.dvdxcopyreviews.com - DVDXCopyReviews.com, the Internet's leading consumer website for DVD Copy Software, announced today an update to its rankings: DVD neXt Copy Pro now ranks as the industry's best Power User software for copying DVD movies. DVD X Copy Reviews had previously ranked "1 Click DVD Copy Pro" as the top Power User DVD copying program.
Also noteworthy, from today through September 5th, all DVD neXt Copy products will be on sale for 15% off the regular retail price. In addition to both this Labor Day sale discount and free bonus software, each DVD neXt Copy purchase originating from the DVD X Copy Reviews website will include a free all-in-one USB/laser pointer/ball-point pen ($29 value). For more details, visit http://www.dvdxcopyreviews.com
DVD neXt Copy Pro enables users to make perfect backup copies of DVD movies and includes the following key features:

Copy any DVD movie to Sony PSP
Copy any DVD movie to Apple iPod
Proprietary neXt Tech™ DVD copying technology
Free "Virtual Drive" bonus software ($29 value)
Free DVD neXt Copy Xpress DVD copying program ($49 value)
Saves DVD movies to a PC hard drive
Ability to browse and view DVD movies on a network
Erases and reformats rewritable disks
Automatically reads with one DVD drive and burns with the other
Previews DVD tracks before and during DVD copying process
Supports all Dual Layer and Single Layer DVD disc and burners
Copies all contents of the source DVD disc
Copies Full DVD Multi-Channel Audio (Dolby Digital 5.1, DTS)
Supports both NTSC and PAL DVD movies
Includes Changeable Skins so that the user can change the look and feel of the program itself
Supports 1x - 20x speed blank DVD media
Includes free bonus software: DVD neXt COPY Virtual Drive
Supports 15 different languages
Include free, 24-hour Technical Support
Supports Windows Vista (as well as Windows XP, Windows 2000 / 2003, Windows Media Center)
DVD X Copy Platinum was once the best-selling DVD movie copy software of all time, however, the http://www.dvdxcopy.com website states that DVDXCopy products are no longer be sold or supported. Since being banned for sale in 2004, consumers have looked for alternative DVD copy programs to backup their DVD movies, and DVDXCopyReviews.com continues to rank and update new DVD copying products and versions as they are released into the market.
The latest rankings direct you to the best DVD Copy software programs. DVDXCopyReviews.com has compiled a list from leading DVD copy software review sites, software developers, DVD disc and DVD burner manufactures, and of course direct feedback from thousands of consumers.
DVD backup software titles vary greatly in terms of copying speed, features and ease-of-use. DVDXCopyReviews.com's rankings include detailed product reviews on the industry's top rated DVD backup technologies. The in report also includes assessments on each publisher's quality of customer support, frequency and cost (of any) of software updates as well as each program's compatibility with the latest operating system technologies. DVDXCopyReviews.com has tested over 50 software titles with a minimum of 100 test DVD backup sessions per title. The results of this rigorous testing and analysis are posted at DVDXCopyreviews.com
Here is a list of this year's top ranked DVD Movie Copy Software as compiled by DVDXCopyReviews.com
1. DVD next Copy (tie)
1. 1Click DVD Copy (tie)
2. DVD neXt Copy Pro
3. 1Click DVD Copy Pro
4. DVD Wizard Pro
5. DVD-to-DVD Copy
###