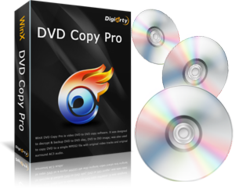 BitsDuJour.com is giving away unlimited number of WinX DVD Copy Pro for perfect DVD clone and copy from 3:00 a.m Eastern Time on Jul.20.
(PRWEB) July 20, 2012
BitsDuJour.com, a website providing all kinds of Windows and Mac software deals, is giving away unlimited number of WinX DVD Copy Pro for perfect DVD clone and copy. According to the schedule, this 100% off DVD backup software deal was active at 3:00 a.m Eastern Time or midnight Pacific Time just today, July 20.
Indeed, BitsDuJour arranges valuable software discounts every day and provides a platform for 50% to 90% off exclusive discount and 100% off software deal, each lasting for 24 hour only. In this way, all the users may get various Windows and Mac programs at a substantial discount or even for free. Recently this free software deal provider has initially joined hands with Digiarty Software Inc., the vendor of WinX DVD Copy Pro, and added the software to its "BitsDuJour 100% off" list for giveaway.
BitsDuJour is changing product every day, and each deal is only available for 24 hours. So just get a move on and get the DVD backup software worth $49.95 at:
http://www.bitsdujour.com/software/winx-dvd-copy-pro/
Among the upcoming software deals over the next days, WinX DVD Copy Pro has won the highest "wants". As of yesterday, more than 480 people were looking forward to this deal. This software functions in making DVD backups and copies for all types of DVDs, covering commercial DVDs, copy-protected DVDs, region code DVDs, scratched DVDs, homemade DVDs and so on. It performs well in lossless DVD copy and basically is helpful to:

Copy DVD to DVD disc – 1:1 DVD clone for collection
Clone DVD to ISO image – convenient for later DVD burning
Back up DVD to MPEG2 file – fast copy DVD on PC hard drive for various uses
Extract specific content – copy only audio, video or part of chapters for particular use
BitsDuJour will make public the ongoing deals in advance. If one is interested in getting the coupon code of one application, he just needs to sign up in the website. Everyone has the right to click "I Want This" button for the needed software and will a notice Email when the "preordered" product is formally on line. It can be guaranteed that each piece provided is the legal and latest version of the software product, so the transaction is 100% safe.
Price and Availability
WinX DVD Copy Pro developed by Digiarty Software was sold $49.95 regularly, but it is $0 today because of the 24-hour deal at
http://www.bitsdujour.com/software/winx-dvd-copy-pro/
About Digiarty Software, Inc.
Digiarty Software, Inc. is specialized in multimedia software based on Windows, Mac OS and iOS6, which provides personal and home used video audio software across Apple iPhone, iPad, Sony PSP, PS3, Xbox, Droid platforms and devices, including DVD Ripper, Blu-ray Decrypter, HD Video Converter, DVD Author, and DVD Copy, etc.