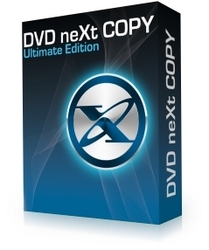 Corozal Town, Belize (PRWEB) November 13, 2008
DVD neXt COPY Inc. announces the release of DVD neXt COPY Ultimate. A completely new and improved software program that provides the fastest burns and highest quality of any DVD Copy software available. The many new features include the ability to copy up to 10 DVD movies to one Blu-ray blank Disc.
It also contains many features for transferring your DVD movies to a portable device, such as automatically removing unwanted material like surround sound and the DTS audio stream, etc. You can burn all Disk image types and convert a disk image to ISO format. DVD neXt COPY Ultimate also comes with an integrated Blu-ray browser that allows you to browse through the multiple DVD movies on Blu-ray discs that you create.
DVDneXtCOPY Ultimate V3.0.4.1 Release Notes

Windows VISTA Compatible
Improved and newly designed neXt Tech™*, for copying your latest DVD movies
Copy Video DVD to Blu-ray (Copy up to 10 Video DVDs on 1 Blu-ray) - Industry First
Copy DVD movies to your iPod, PSP, Zune (Windows Media Video)
Copy DVD movies to DVD
Copy DVD movies to your computer
Copies DVD Movie to One Blank Disc (No Need to Split)
Copy Video DVD and Common Discs (Special Feature Disks/Digital Copy Disks)
Copy episodic DVD movies
Copy Full Multi-Channel Audio (Dolby Digital 5.1, DTS)
Copy Common Disk directly to another drive (on-the-fly)
Copy Common Disks to Disk Image
Copy and Burn to Multiple devices
Make copies of DVD copies
Convert all know Disk Image Types to ISO (to open with DVDneXtCOPY)
Burn all known Disk Image Types with DVDneXtCOPY
Burn own Disk Image Types with DVDneXtCOPY
Added Pre-scan for high quality
Highest quality available
Extended Bad Sector Scanning
Auto-fill Bad Sectors
New and improved Video DVD content list
New Web Control for better information about updates and new features
Completely New Design
Easy to use and easy to understand work flow
Integrated Blu-ray Browser for XP
Option to remove region limitations
Option for auto remove DTS audio stream
Option to erase and reuse rewriteable disks
Option to preview tracks before and during copying
Option to adjust deposit Buffer (to avoid over flowing copies)
Option to jump directly to menu. The copy will not play trailers
Option to use 1, 2 or 4 Processors (Dual Core or Quad Core)
Supports all Dual Layer/Single Layer/Blu-ray discs and burners
Supports all SCSI, IDE, USB DVD burners/recorders
Supports 1x - 20x speed blank media
Supports both NTSC and PAL DVD movies
DVD neXt COPY Ultimate Minimum System Requirements - Win 2000, XP

Pentium III® 500 MHz or equivalent
256 MB RAM
10 GB of free hard drive space.
A DVD Writer and media.
DVD neXt COPY Ultimate Recommended System Requirements - Win XP, X64, VISTA

Pentium 4® 1.4GHz or equivalent
512 MB RAM
15 GB of free hard drive space.
A DVD Dual Layer/Blu-ray writer and media
NOTE TO EDITORS: Please, let us know if you have questions or would like any additional information. Contact Dave Martin at dmartin @ dvdnextcopy.com to get more information.
Product page link: http://www.dvdnextcopy.com/overview.aspx
E-mail: customerservice @ dvdnextcopy.com
Company website: http://www.dvdnextcopy.com
###