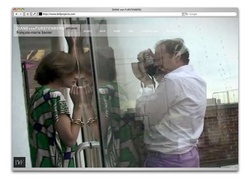 New York, NY (PRWEB) February 14, 2008
On February 13th, Diane Von Furstenberg will launch an online art gallery -- DVFProjects.com -- an insider's look at the making of her new advertising campaign. The site will expand the brand's online reach and connect the worlds of art, fashion, and culture in an interactive and dynamic way.
For this unprecedented campaign, Diane von Furstenberg enlisted artist Francois-Marie Banier, model Natalia Vodianova and ad man David Lipman to create imagery reflective of the distinctive spirit of the eponymous brand. The online exhibition will allow viewers an intimate look at the creative process from conception to the finished product.
A prominent feature on the site is a 5 minute film, directly linked to DVF.com, documenting the creation of the campaign: a series of intimate rendez-vous between Banier and Natalia. On location and in his studio, the viewer is fully immersed in full screen video footage, in both black and white and color, of the artist and subject at work. It shows Banier applying bold color, with decisive brushstrokes and spatters, and writing to the black and white photographs. The results are images both visually and emotionally complex and thoroughly seducing.
The new virtual gallery provides insight into the inspiration behind the project, and reveals the full background on the collaboration between DVF, Francois-Marie Banier, Natalia and Lipman. As with an exhibition, the viewer can peruse through the collection of artwork and find rare access to Banier's Paris studio, filled with images of works in progress. Video clips show the interaction and chemistry between artist and muse. An insider's look into the artist's creative process, this online gallery represents the artistic integrity of this unprecedented collaboration.
Diane von Furstenberg, one of the premier names in American fashion, was founded in 1972 by the designer. Renowned for its iconic dresses and prints, DVF has grown into the global luxury lifestyle brand known today. The company, headquartered in New York City, has expanded to a full comprehensive line of ready-to-wear, swimwear, handbags, footwear, luggage, accessories, fine jewelry, fragrance and rugs. Its distinctive collections are sold in over 56 countries and in 22 namesake retail boutiques worldwide.
###