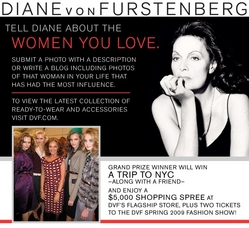 New York, NY (PRWEB) March 12, 2008
In honor of International Women's Day (IWD), Diane von Furstenberg is pleased to launch an online initiative that aims to recognize the strength and power of extraordinary women. DVF has developed a global contest with brickfish.com that encourages participants to recognize, in the spirit of IWD, those women who have proven most inspirational in their lives.
International Women's Day was born on March 8, 1908, when fifteen thousand sweatshop workers, all women, took to the streets of New York to protest appalling working conditions and demand the right to vote. 100 years later, it is now a day celebrated around the world by women who believe in the transformative value of their participation in society.
Now and continuing through April 19th on Brickfish, women are invited to share their stories of the most influential women in their lives who have most inspired them. Contestants are asked to submit photos with a detailed essay or blog. Those who share the most impactful stories will be entered into an exclusive DVF contest. Entrants should encourage their network of family and friends to vote for their story by logging on to http://www.brickfish.com/fashion/dianevonfurstenberg or by logging on to DVF.com and clicking on the "Women You Love" banner on the homepage. The top 100 highest voted entries will be judged by Diane von Furstenberg, and the winner will receive a $5,000 shopping spree at a DVF store and 2 tickets to the Spring 2009 DVF fashion show in New York City.
Diane von Furstenberg, one of the premier names in American fashion, was founded in 1972 by the designer. Renowned for its iconic Wrap dress and signature prints, DVF has grown into the global luxury lifestyle brand known today. The company, headquartered in New York City, has expanded to a full comprehensive line of ready-to-wear, swimwear, handbags, footwear, luggage, accessories, fine jewelry, fragrance and rugs. Its distinct collections are sold in over 56 countries and in 22 namesake retail boutiques worldwide.
###