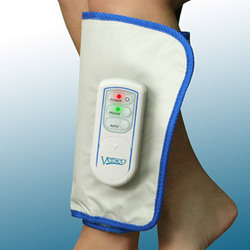 The best part about the massager for me was its portability
Beacon, NY (PRWEB) October 20, 2009
Leading health and beauty retailer, Verseo.com, today announced that its cordless air pressure leg massager was approved by the U.S. Food and Drug Administration (FDA) for the treatment and relief of deep vein thrombosis (DVT). Deep vein thrombosis is a serious blood clot condition often caused by inactivity or sitting for extended periods of time.
The Verseo cordless massager easily wraps around the leg or arm and uses air pressure to ease stiffness and promote circulation. With no bulky tubes or controllers, the cordless massager can be operated anywhere making it perfect for office workers, air travelers, car commuters, those who are bedridden or anyone else that must remain stationery for long periods of time. The massager is also beneficial to pregnant women whose blood clots more easily during pregnancy. One to two women out of every 1,000 will develop a thrombosis during pregnancy or just after delivery but regular use of the Verseo cordless leg massager may help reduce that risk.
Robert Ferreira, Chief Executive Officer of Verseo.com said, "We are very pleased to receive approval for our cordless air pressure leg massager from the FDA. Deep vein thrombosis is a serious condition that can occasionally lead to life-threatening situations. Our massager provides a valuable, new and non-pharmaceutical treatment for those who suffer from, or are at risk of, DVT."
"The best part about the massager for me was its portability," says Verseo customer Deb Wilson. "I can use it nightly while I read or just as easily pack it with me when I travel. I had a friend diagnosed with DVT during pregnancy that left her bed-ridden during her last trimester. It was a very scary time for the whole family. If use of this product could prevent a situation like that for just one family, that's well worth my recommendation."
The battery operated massager works by simulating the expansion and contraction of the calf muscles, which helps counteract the sedentary conditions that can contribute to deep vein thrombosis. It features 15-minute program and automatic modes, an artificial intelligence air pressure sensor for comfort and three intensity settings. The cordless leg massager is available from Verseo.com for just $39.95.
About Verseo.com
Verseo, Inc. is a New York based company that specializes in the development and manufacturing of quality health and beauty products. Verseo products are designed to provide real solutions to real people. Verseo, Inc. is committed to providing a resource for customers to find solutions to their health and beauty needs.
###