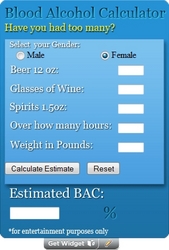 Houston, TX (PRWEB) July 27, 2010
The DWI Lawyers at Tyler Flood & Associates, Inc have created a free blood alcohol calculator for people who want to know their legal limit for alcoholic drinks. This tool gives web users an easy way to estimate the number of drinks they can consume and how that may affect their blood alcohol level. The widget factors gender, type of alcohol, number of ounces, body weight, and duration of drinking to estimate an individual's blood alcohol level.
Please keep in mind that this widget is for entertainment purposes only and should not be used in the decision making process regarding driving a vehicle after consuming alcoholic beverages.
The widget is free for anyone to use on blog posts, websites and social media accounts. Get and share the widget at http://www.tylerflood.com/bac-widget.html.
Additional Information:
The Blood Alcohol Calculator helps people better understand how the type or alcohol they drink and the amount of time allowed after drinking affects their legal ability to drive, boat and fly. Post this widget to your website, blog or social media profile to help your friends find their personal limits and avoid DWI's and possible traffic accidents.
About:
Tyler Flood & Associates is a Houston, TX based law firm dedicated to defending people charged with intoxication related offenses including DWI, Boating while Intoxicated, flying while intoxicated and intoxication assault & manslaughter.. The firm is made up of board certified criminal defense lawyers who hold national certification in sobriety testing and have been named top lawyers by multiple publications in Texas.
Contact Tyler Flood by visiting our website TylerFlood.com or call (713) 224-4DWI.
###