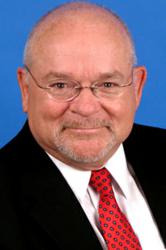 Hartford, Connecticut (PRWEB) July 26, 2012
Dwight H. Merriam, a partner with Robinson & Cole LLP in Hartford, has been selected as the Connecticut member of the Owners' Counsel of America, a nationwide network of experienced property rights and eminent domain attorneys who seek to advance, preserve and defend the rights of private property owners. Mr. Merriam founded the Land Use Group at Robinson & Cole where he concentrates his practice in the areas of land use, real estate and property rights litigation representing landowners, developers and corporations throughout Connecticut and the United States.
Throughout his extensive career, Mr. Merriam has held a number of leadership positions in some of the most prestigious national and international real estate and legal associations. He is a Counselor of Real Estate, a member of the Anglo-American Real Property Institute, a Fellow of the American College of Real Estate Lawyers, a Fellow of the Royal Institution of Chartered Surveyors and a member of the Rocky Mountain Land Use Institute National Advisory Board. In addition to his law degree from Yale, Mr. Merriam holds a Masters of Regional Planning from the University of North Carolina. He is a Fellow and Past President of the American Institute of Certified Planners, a former Director of the American Planning Association, and a former Chair of APA's Planning and Law Division.
Mr. Merriam teaches land use law at the University of Connecticut School of Law and at Vermont Law School. He has published over 200 articles and eight books including The Takings Issue, Eminent Domain Use and Abuse: Kelo in Context and The Complete Guide to Zoning. He is the senior co-author of the leading casebook in land use law, Planning and Control of Land Development (Eighth Edition) and has authored chapters in the seminal treatise on condemnation law, Nichols on Eminent Domain. Mr. Merriam frequent speaks at land use and property law seminars, has been cited by the press and has appeared on national and public television discussing land use and property rights issues.
Recently, Mr. Merriam and a team of Robinson & Cole lawyers secured a $167,501,656 just compensation award for Gyrodyne Company of America, Inc. against the State of New York for the condemnation of 245.5 acres of property in a planned residential community in upstate New York. He also co-authored an amici curiae brief on behalf of the Rent Stabilization Association of New York, Inc. and the Small Property Owners of New York, Inc. in favor of the property owner in the rent control case, Harmon v. Kimmel, No. 11-496, which the U.S. Supreme Court declined to review in April of this year.
ABOUT OWNERS' COUNSEL OF AMERICA:
The Owners' Counsel of America, http://www.ownerscounsel.com, is a nationwide network of experienced eminent domain attorneys dedicated to protecting the rights of private property owners large and small, locally and nationally, and to advancing the cause of property rights. The lawyers affiliated with Owners' Counsel are in private practice in nearly every state and represent property owners against federal, state, and local governments, utilities, redevelopment authorities and other entities that may be armed with eminent domain power.
###