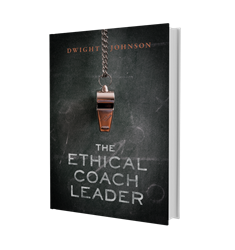 We as a society have lost track of what ethics is and we have no way to hold anyone accountable because we have no code of ethics.
(PRWEB) April 28, 2015
In America today, ethics are everywhere in our culture. From businesses, to education, to nonprofit companies, the values that guide all of these sorts of things are under scrutiny. It can be difficult to keep all of the teaching about ethics straight with everyone's varying inputs and all of the scholarly texts that exist but are hard to understand. Dwight Johnson, a retired pilot and ethical coach, believes that this is ridiculous, that everyone should be able to understand how to create an ethical culture. In order to help do this, he has written a book, The Ethical Coach Leader: Developing Honor and Integrity, that explains ethics to people in easy to understand terms that they can apply in their own lives.
The Ethical Coach Leader: Developing Honor and Integrity is a fiction book that teaches readers ethics through its story that they can apply in their real lives. It follows the story of a college coach who discovers that his star athlete failed his steroid test. Coach is then faced with a serious ethical dilemma that he does not know how to solve. During a couple of restless nights of sleep, Coach is visited by five ghosts: the Ghost of Example, the Ghost of Education, the Ghost of Experience, the Ghost of E-information, and the Ghost of Environment, all of which have different advice to give Coach on how to deal with his ethical crisis.
These dreams begin haunting Coach's every moment, leaving him torn between whether he should ruin his team's chances and give up his star player, or play the game by the rules. Not leaving it up to just his ghostly encounters, Coach goes to two of his former mentors and gets their input on his situation. In the end, Coach must make his own choice with all of the information that he has been given, changing his life no matter what he does.
All of the lessons that Coach learns throughout the story can be applied to any industry, business, school, or individual life. Readers see that challenging the cultural mindset is sometimes a good thing that can bring about positive new developments. This is a must read book for anyone who has influence on others, wants to learn more about ethics in their everyday lives, or is in a leadership role.
Dwight Johnson:
Dwight Johnson is an ethical coach who resides in Colorado Springs where he works at the United States Air Force Academy. He is a retired Air Force Lt. Colonel and also served as the Department Head of Services at the Air Force Institute of Technology, where he taught Customer Service and Total Quality Service. Over the years, he has learned the importance of understanding ethics, integrity, honor, and good character. In 2012, Dwight was awarded the General Billy J Boles Mentorship Award for the Air Force Academy for mentoring cadets.