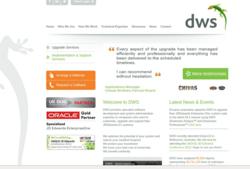 DWS have developed a fantastic new website which offers extensive information about the complete range of services offered by DWS and an information resource for the entire industry
London (PRWEB UK) 7 September 2012
DWS have announced the launch of a new website – http://www.dwsconsultants.com– a bright, user-friendly site which provides an information platform for DWS customers and other users of Oracle's JD Edwards EnterpriseOne. Website users can find information and resources on key DWS products such as Dimension Analyze™, Dimension Audit™ and Dimension Estimate™, as well as other Implementation and Support Services offered by DWS.
The aims of the site are to allow visitors to gain a comprehensive understanding of DWS and provide an industry leading resource for information regarding JD Edwards EnterpriseOne Upgrade and Management. The launch of the new website is part of the organisation's ongoing efforts to enhance the quality and availability of information to existing and potential customers and Oracle's JD Edwards EnterpriseOne users.
The website boasts a modern, colourful design and is divided into easy to navigate sections of Who We Are, What We Do and Technical Expertise. Website users can also navigate straight to the information they require by using the side bar navigational tool – directing users to Upgrade Services or Implementation and Support Services. This will allow users to navigate straight to the area of the website of most interest to them.
The website's user-friendly nature provides users with more efficient access to DWS's resources and information. The new website also supports a secure client log-in portal where existing customers can access secure files. DWS also create a specific download page for each customer that enables them to sign in with a user id and password to download their specific modifications from the DWS website.
Other new functions include easy to use contact forms; a showcase section where users can read testimonials and access case studies; and a section entitled "What We Think" which provides commentary on industry news and events and allows DWS to share extensive thought, knowledge and opinion. Currently, users can read Managing Director, Barry Burke's thoughts on the Reality of the "100 day Upgrade".
The new website also offers users the opportunity to engage further with DWS by accessing the company's social media network via links to LinkedIn, Twitter and Facebook and by incorporating Youtube into the website so users can access video information. Customers will also be able to use an interactive tool to help them understand how the Dimension™ suite of products work and could help their business.
"DWS has a global client footprint – we work with sophisticated clients from all over the world" explains Barry Burke, Managing Director of DWS. "In order to meet the expectations of our customers and other JD Edwards EnterpriseOne
users we have developed a fantastic new website which offers extensive information about the complete range of services offered by DWS and we hope will also act as an information resource for the entire industry."
Since 1998, DWS has been providing specialist software development and CNC expertise to companies who want to customise, upgrade and support their JDEdwards E1 systems. The award winning Dimension Analyze™ service has helped customers all around the World to realise significant savings on their E1 upgrades.
About DWS
Since 1998, DWS has been providing software development and technical support to companies who want to customize and extend Oracle JD Edwards EnterpriseOne. Its award winning Dimension Analyze™ service has now assisted customers in Europe, Australasia and North America with their EnterpriseOne upgrade projects.
DWS is the trading name of Developing World Systems Limited, which is registered in England and Wales.
Further information on DWS is available on the company's website.
About Oracle JD Edwards EnterpriseOne
Oracle's JD Edwards Solution is an integrated applications suite of comprehensive enterprise resource planning software that combines business value, standards-based technology, and deep industry experience into a business solution with a low total cost of ownership.