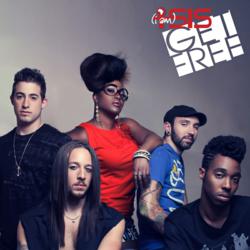 (i am) isis compels your soul to open up and receive [their] message of freedom.
New York, NY (PRWEB) May 21, 2013
Award-winning spoken soul band (i am) isis has just released the first music video,"Get Free", from their forthcoming debut EP, Untitled. Watch the video at http://www.youtube.com/watch?feature=player_embedded&v=XjtRLQLNzDQ.
"Get Free" is a fresh anthem off of their EP, which is scheduled for release on June 25, and is available on iTunes.
The do-it-yourself visuals for "Get Free" were shot at Staten Island's Fenix Studios and feature muted tones and social justice images to support the song's grassroots message of change. The video's messaging highlights several key community issues including: the Occupy movements, marriage equality, anti bullying, self love, civil and human rights.
"(i am) isis compels your soul to open up and receive [their] message of freedom, while hitting you with funky, pop-rock-R&B rhythms," said Datwon Thomas, executive editor of VIBE Magazine. "[Their] mesh of style and sound overwhelms and embraces at the same time. isis is sure to save some sinners with her level of talent."
The inspirational track is currently featured in Supercuts' "Rock The Cut" Artist Ambassador program, demonstrating (i am) isis' acute ability to gain rising commercial appeal as indie artists. The band's sound has been deemed "timeless" with a "fresh" take on rock and soul music by industry insiders.
For interviews or more information, contact Denise Washington at dw[at]dwworldmedia[dot]com or visit http://www.iamisis.com.
# # #
About (i am) isis
(i am) isis is a high energy, in-your-face band formed and fronted by soul-rock-phenom, isis. The band currently consists of bassist Mike Koltosky, drummer Manny Mav, guitarist Diamond Dave, and keyboardist Isaac Childs who bring her crazy, color-filled melodies to life on stage. With an affinity for rock-infused guitars and thrashing delivery, they bring an eclectic fusion of rock and spoken soul, with a bluesy funk for the new millennium.
About DW World Media
DW World Media, LLC is a communications firm with core competencies in public relations, focused on elevating its clients' brands, marketability and reach in media, entertainment and the arts. For more information, visit http://www.dwworldmedia.com.