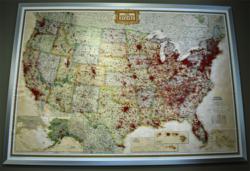 When we started the company I had no idea that our customer base would be so spread out geographically.
Brentwood, TN (PRWEB) July 13, 2012
When DXE Medical, Inc. started doing business as Dixie Medical Inc. in 1999, the founders had no idea where the company's path would lead. Thirteen years and over 20,000 customers later, founder and President, Matthew Spencer, wanted a way for visitors to visualize all the places their customers reside throughout the U.S., and use this image to tell a story about how the business has evolved. "When we started the company I had no idea that our customer base would be so spread out geographically. We originally focused on the Southeast region of the country, but that didn't last long," says Spencer.
At 25-years-old and with an apartment as an office, a nationwide customer base seemed unimaginable to Spencer. Soon however, advertisements in EMS publications and targeted mailers to various states alerted him to an evolving demand in not only the far-reaching public-access market, but in various environments and settings that needed and benefited from having a defibrillator. "We realized that the marketplace for our products was much larger than our focus. It's embarrassing that I was so shortsighted that I didn't at least consider the potential," Spencer admits. "I still had to use the telephone almost exclusively. Email was an emerging communications tool and we did not have a website. E-commerce was in its infancy."
Thirteen years later, and with the arrival of the internet as an integral way business and commerce are conducted, the world is a much smaller place. That wasn't the case in 1999. Now, you can easily communicate and conduct business with people all over the globe. The internet and media have brought much needed awareness to the general public regarding what Sudden Cardiac Arrest (SCA) is, and why the use of an AED within five minutes of a victim collapsing from SCA is a necessary treatment to save the victim's life. There are daily stories of how a life was saved by having quick access to an AED, or worse, how a life was lost because there was not an AED available. Families set up foundations and charities in honor of their loved ones to spread awareness, and to encourage others to make the decision to provide this lifesaving device at their schools, jobs, and places of worship.
DXE Medical, Inc. has recently acquired AED.com and maintains almost a dozen websites, including http://www.aed.com, http://www.aedwarehouse.com, http://www.zoll.us, http://www.dxemed.com, and http://www.secondlifebiomedical.com. The company has grown from Spencer and his wife to employ over twenty people, and recently moved into a 27,000 square foot facility in Brentwood, TN.