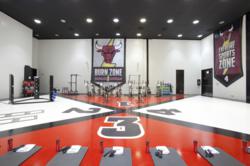 Getting to work with the RISE UP team and the awesome kids at Dyett was such an amazing experience!
Chicago, IL (PRWEB) October 06, 2011
As recently featured in the ESPN series "RISE UP", Crawford Laboratories, Inc., manufacturer of Florock commercial flooring, donated materials and technical assistance to install the epoxy flooring in Chicago's Dyett High School old ROTC practice room. "RISE UP" is an ESPN original series, that tells the story of four communities coming together to renovate their local high school athletic facilities. The series was shown on four consecutive Tuesday evenings starting on September 13. The Dyett High School floor coating installation was part of the final program on October 4.
Southside Walter H. Dyett High School is located in the struggling Washington Park neighborhood, where gangs are a real threat. The positive influence of high school athletics offers a much-needed alternative, but it's hard to play with old, damaged equipment in a run-down facility.
That's where the "RISE UP" program and companies like Crawford Laboratories come in. A welcoming environment can make all the difference – not only in encouraging youth athletics, but in showing kids that they matter. Crawford Laboratories employee, Aviva Llorens, was present during the gym floor makeover. "It was such a privilege to be able to support a school in our community. Seeing everyone work for the good of the kids was truly inspirational!" says Llorens.
The new Dyett High School floor is decorated in the red, black and white, colors of the Chicago Bulls, to reflect the involvement of the team's charity during the makeover of the old gymnasium and ROTC practice room. The colorful, durable new Florock brand resin floor enhances the entire space, and the highly-reflective floor coatings increase room illumination without adding to the lighting bill.
Crawford Laboratories is proud to have had the opportunity to contribute to this wonderful program and to see their high performance concrete resurfacing products in the television spotlight. If you missed it on October 4, the Dyett High School episode of "RISE UP" will re-air on October 8 at 6 a.m., October 19 at 9 a.m., October 22 at 2 a.m. and October 26 at 9 a.m.
Local Florock representatives are available nationwide to assist installers and facility managers in choosing the best industrial floor coating for their unique applications. Call 1-800-FLOROCK (1-800-356-7625) to find the one near you.
About Florock®, manufactured by Crawford Laboratories, Inc:
Serving facilities nationwide, Crawford Laboratories, Inc. is a respected leader in the manufacture, research and development, and installation of solutions-oriented concrete floor coatings and toppings. Independently owned for 60 years and located in Chicago, Illinois, Crawford Laboratories was founded on the principles of cutting-edge technology, innovation and impeccable integrity.
###