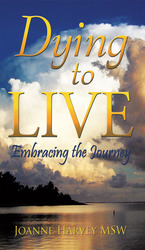 I attempt to shatter the illusion that dying has to be sad and horrible
Yreka, Calif. (Vocus) November 18, 2010
What would it be like to know you are dying and still live your life to the fullest?
In her new book Dying To Live: Embracing the Journey, hospice social worker and author Joanne Harvey takes readers into the homes and lives of people challenged with terminal illness. A collection of true stories about love and healing, Harvey's intimate accounts dare readers to adopt a new view of death: to embrace it as a natural part of life.
"I attempt to shatter the illusion that dying has to be sad and horrible," says Harvey. "It can be difficult, but with hospice support, it can also be powerful beyond belief."
An experienced social worker, Harvey includes practical advice, information and resources available to those who need assistance or wonder how hospice works.
In the Nov. 12, 2010 issue of the Siskiyou Daily News, Editor Mike Slizewski writes, "When a book is described as a 'page-turner,' the reader often expects something like this: 'an exciting novel, such as a thriller, with a fast-moving story.' You don't expect, say, a non-fiction book about people who are helped through the last stages of life by hospice. But that's the best word I can come up with to describe Joanne Harvey's recently released Dying to Live: Embracing the Journey."
L. Black, a reader from Bertha, Minn., writes, "Each story was so inspiring! I finally know exactly where I can get help [and] now I know we can do this. I can live each day in the present, and most importantly, I recognize that in the end with some support, everything will be OK. I can't express enough what a wonderful gift this book is. Thank you from the bottom of my heart."
Says Percy McManus, founder of Health Excellence, Inc., "These stories will expand your heart into realms you never knew existed." Inspiring, captivating and enlightening, Dying to Live provides readers with practical ways to maximize their life and honor the present.
"My life has been extraordinarily changed by looking into the eyes of people who are dying," says Harvey. "I am hoping that the reader will recognize the gentle humanity in each of these stories and utilize available resources to neutralize some of the fear associated with death."
About the author
Joanne Harvey, MSW lives in rural northern California. She is a medical social worker and grief therapist with hospice, a patient advocate, an inspirational speaker and an emotional freedom techniques practitioner. She holds a bachelor's in psychology and a master's in social work from California State University in Sacramento. Harvey enjoys world travel, photography and the outdoors. This is her first book.
# # #