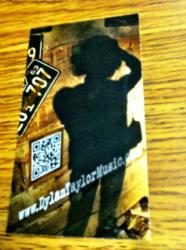 I play for myself and I write what I feel with the hope that I can touch as many lives as possible
Nashville, TN (PRWEB) July 13, 2012
Emerging superstar, Dylan Taylor, has been wowing audiences with her edgy lyrics and unique guitar rhythms at an unprecedented pace. Her new single, "I Hate The Way" was co-written and produced by multi-hit songwriter/producer, Trey Bruce. "I Hate The Way" takes listeners on a turbulent lyrical ride through hated remnants of unrelenting love. Since the release of "I Hate The Way" on June 19, 2012, Dylan Taylor's audience and fan base have been growing at an unprecedented pace. Fans across the globe have been exhibiting their excitement by visiting her official website and Facebook artist page daily in stunning numbers.
Born in Atlanta, Georgia, Dylan moved to Nashville, Tennessee at an early age and, when not on tour, has been growing up on Nashville stages where she is a regular featured artist at such venues as Gavin DeGraw's National Underground. Recent press features and performances include WTVF TV Nashville Channel 5's "Words & Music," Balcony TV, featured artist on Nashville's Lightning 100 WRLT, Alternate Root Magazine (July 2012 issue). Audiences are consistently amazed as Dylan's charismatic voice and mesmerizing performance erupts on stage from such a beautiful and petite young woman. Dylan recently received airplay on over 90 college radio stations across the country and her last single "I Like That" was #1 song on Dayton, Ohio's WUDR.
"Dylan Taylor continues to grow as a writer and a singer. Her latest offering 'I Hate The Way' delivers angst and longing, wrapped around amazing snapshots of everyday life…but cleverly depicted…each syllable weighted for maximum depth into the listeners soul" says Dennis Banka, GM/PD/MD WUCZ 104.1. "The production is tastefully reminiscent of the Eurhythmics, ELO and the Beatles while her vocal performance cuts perfectly through the percussive track. A must listen from start to finish."
When asked about favorite things Dylan commonly says, "I Like It All" which is, coincidentally, the title of another of her fabulous songs and crowd favorites. When asked about the continuing success of her music and growing fan base, Dylan says, "I play for myself and I write what I feel with the hope that I can touch as many lives as possible." Dylan commonly says, "There are no brownie points in life" which exemplifies her unique recognition that everything springs from hard work and persistence. Her persistence shines through in her brilliant creativity and talent every time she takes the stage.
For the latest news on Dylan Taylor and her incredible music, she can be followed on Twitter at http://twitter.com/DylanTaylorNow (@DylanTaylorNow), on Facebook at http://www.facebook.com/DylanTaylorArtist and her official website http://www.DylanTaylorMusic.com.
For Media Inquiries and Interviews, contact:
Ronnie Brown
Next Century Music
Nashville, TN
615-260-1443
RBrown(at)NexCen(dot)com