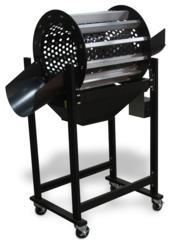 Muskegon, Michigan (PRWEB) July 27, 2012
Dynamic Conveyor recently improved upon the design of its DynaCon plastic parts separator. The tumbler separator has been redesigned and offers many benefits including a lower price.
Solid one-piece rings have been designed to replace the previous ring construction which included twelve segments joined together to create one ring. Two rings are needed for the manufacture of each drum cage needed for the parts separation systems. This new one-piece ring is sturdy and will last a lifetime – there is no need to repair the ring by replacing broken or damaged segments. The solid one-piece construction provides a very smooth rotation of the drum cage.
The drum cage offers quiet operation while rotating to separate usable plastic parts from their scrap runners that result from the injection molding process. The newly designed rings offer reliability that will last the lifecycle of the parts separator.
The time needed to manufacture one-piece rings versus 12-piece segment rings is greatly reduced; therefore, allowing shorter delivery times for the DynaCon tumbler separators. Reduced manufacturing time equates to lower costs; therefore, the price of the parts separator has been reduced. A lower price results in a quicker return on investment for Dynamic Conveyor's customers.
The DynaCon line includes a variety of reconfigurable conveyors, parts separators and accessories that boast easy reconfiguration when needs change. To learn more about DynaCon parts separation systems and other products visit http://www.DynamicConveyor.com or call 1.800.640.6850.