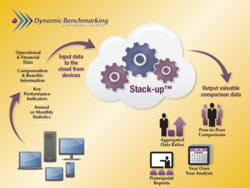 Our work with some of the top associations in the country has proven that our online benchmarking platform brings data collection and information delivery to a whole new level.
Windham, NH (PRWEB) November 13, 2012
Dynamic Benchmarking, a provider of dynamic online business benchmarking software, was selected as a finalist and Judges Award Winner in the New Hampshire High Tech Council's "Product of the Year" Competition. Since 2006, the NHHTC has honored the outstanding innovations of New Hampshire's tech companies with an annual competition that highlights originality, performance, superior design, functionality and service.
Based in New Hampshire and run by an all women, executive team that resides in the state, Dynamic Benchmarking's unique platform transforms traditional surveying and benchmarking into an intuitive and interactive process that provides high value at an affordable cost. By delivering immediate performance data comparisons using customizable data filters and reports, organizations gain timely and meaningful insight into their business operations, compensation data and industry trends.
"We are honored to receive this award. Our work with some of the top associations in the country has proven that our online benchmarking platform brings data collection and information delivery to a whole new level," comments Betsy Delfosse, Chief Operations and Technical Development Officer of Dynamic Benchmarking. "We strive for continuous improvement on our feature set and technology offering as reflected by our 2012 development effort."
Dynamic Benchmarking will stand with five other New Hampshire technology companies in a final competition where each product will be evaluated against a set of criteria that demonstrates their innovation, utility, usability and overall service to their customer base.
"We are proud of what the Dynamic Benchmarking platform has brought to the industry," adds Lisa Vivinetto, Founding Partner of Dynamic Benchmarking. "By partnering with organizations like ASAE, The Center for Association Leadership, and Association Forum of Chicagoland, we have demonstrated that our innovative solution meets a unique market need for data sharing in a manner that is simple, intuitive and affordable for associations."
About Dynamic Benchmarking
Dynamic Benchmarking brings business benchmarking into the 21st century using the latest in web-based technology and reporting functionality. We partner with professional associations and other organizations to offer Stack-Up™ to their members as a way of enhancing association value, contributing to member success, collecting industry trend data and creating non-dues based revenue. Stack-Up integrates our clients' industry expertise and information needs into a benchmarking platform allowing their members to easily compare financial and operational performance against their peers in a dynamic and interactive manner. It offers the features and capabilities of custom software in a format that is easy and quick to deploy. With our exclusive focus on benchmarking, Dynamic Benchmarking builds solutions that are flexible and scalable across a wide breadth of industries, organizations and users. For more information, visit http://www.dynamicbenchmarking.com.
About New Hampshire High Tech Council
Founded in 1983, the NH High Tech Council has been the voice of technology and innovation in the State of New Hampshire for well over 25 years. As a member-driven organization focusing on advancing innovation throughout New Hampshire, NHHTC helps drive NH's economy by encouraging research and technology-based industrial development.
The Council brings together representatives from the private and public sectors to establish and maintain financial, technical, legislative, and educational programs that support research and economic development efforts that help New Hampshire lead in entrepreneurship and business on a national level. For more information, visit their website at http://www.NHHTC.org.