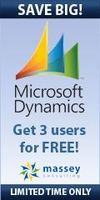 Three users of Dynamics GP for FREE is an amazing offer! Call us now to take advantage of this Can't Miss Deal!
Raleigh, NC (PRWEB) April 10, 2010
Massey Consulting is excited to announce "Three Users for Free" - a Microsoft Dynamics GP promotion for growing and medium-sized businesses that wish to take advantage of the rich functionality, low cost of ownership, and rapid deploy ability offered by Microsoft Dynamics GP. The promotion allows customers to acquire up to 3 Advanced Management (AM) or Business Essential (BE) user licenses for Free. This offer applies to new customers making their initial purchase of Microsoft Dynamics GP.
With more than 40,000 customers in a wide range of industries, Microsoft Dynamics GP has proven itself as a flexible, powerful business management solution. But despite its long track record, it still sets the standard for innovation, with powerful tools for creating insight and efficiency across your business.
Massey Consulting, Inc., a North Carolina based company, specializes in Microsoft Dynamics implementations, and maintains a range of complimentary business and resource management software. The software solutions they provide help clients automate and integrate areas such as finance, customer service, human resources, fund accounting, project accounting, and internet technologies in their company. As a Value Added Reseller, they represent the Microsoft Dynamics GP (Great Plains) product.
Philip Massey, president of Massey Consulting stated "Massey Consulting is thrilled to partner with Microsoft on this outstanding offer. Anyone who has been sitting on the fence regarding GP should take advantage of this offer today! And, anyone who is hindered by their current accounting software should take a look at Dynamics GP. Three users for free is a great offer!"
This offer is available until end of business day Friday, June 25, 2010, all new customers that meet the eligibility criteria can take advantage of this special offer. Please vist http://www.masseyconsulting.net or call our office at 877-875-3577 for more information.
###