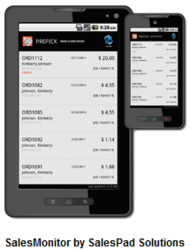 We're generating more tools for people that ease real business pains and make businesses more efficient.
Grand Rapids, MI (PRWEB) March 16, 2012
SalesPad Solutions, a developer of software as a front-end to Microsoft Dynamics GP, will debut three new software products designed for businesses at Convergence 2012.
Building on the success of SalesPad, the company's sales, order entry and customer service product for Microsoft Dynamics GP on Windows desktop, SalesPad Solutions plans to progressively roll out a line of mobile products that will bring the chief functionality of SalesPad to the iPhone, iPad and Android mobile devices.
SalesMonitor is the first application in the mobile suite to be released. The app allows business executives to view all open sales documents in their company and each document's current status and workflow position. They can see order basics, such as customer, order number and total cost, or view the entire order including all line items. Users can make changes as needed and easily move each document to completion, all while on the go. They can also view customers' accounts receivable balances and account status.
Pete Eardley is president of SalesPad Solutions and also owns Charter Industries, a Grand Rapids, Mich.-based distribution business with four warehouse locations. Pete said, "The first time I saw Mobile SalesMonitor, I was excited. As a business decision maker myself, I know how useful it would be to know exactly where every document in the whole company is and to be able to make those kinds of decisions while away from the office."
Pete's business partner and SalesPad Solutions' head of development, Matt Williams, is confident in his team's new product. "Pete's business needs at Charter and his experience in that industry, as well as feedback from the rest of our customer base, give us a competitive edge in creating software products that manage real-life business needs," he said. Regarding continued plans for SalesPad's move to mobile, Matt said, "We plan to add Inventory Lookup as a mobile app very soon."
In addition to the mobile app, the company also plans to introduce InventoryControl, an easy to deploy warehouse application. Combined with the use of SalesPad Solutions' barcode receiving and fulfillment product, DataCollection, InventoryControl promises to deliver advanced inventory management. It will allow users to regulate and track the movement and storage of inventory within their warehouse and limit what can and cannot be purchased from each warehouse bin.
Also to debut at Convergence is a standalone program called CardControl. CardControl offers credit card processing capabilities with enhanced security at a lower cost than competitive products on the market. Users will be able to store unlimited encrypted credit card numbers for customers and process credit transactions in real time for multiple payment gateways.
Why should people attending Convergence be excited about the new products? Matt Williams says, "We're generating more tools for people that ease real business pains and make businesses more efficient. They give a competitive advantage to Microsoft Dynamics GP users. That's our goal and we continue to succeed at it."
Convergence attendees will be able to view and try out the new products March 18-21 at SalesPad Solutions' booth, #1145. The products will be available for release in May. Upgrades to flagship product SalesPad will also be available at this time.
About SalesPad Solutions
Grand Rapids, Mich.-based SalesPad Solutions (Sales Pad, LLC) develops sales order processing, customer service and distribution management software to seamlessly interface with Microsoft Dynamics GP. For more information about SalesPad Solutions and its products, please visit http://www.salespad.net or call (616) 245-1221. SalesPad is a registered trademark of Sales Pad, LLC.