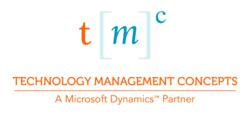 Microsoft Dynamics GP 2013 offers unprecedented choice in how and where the product is accessed and used, enables fast, flexible deployments, and delivers comprehensive capabilities that work like and with the solutions you already use in your business.
Los Angeles, CA (PRWEB) December 21, 2012
The day is here that everyone in the ERP world has been waiting for…Microsoft Dynamics GP 2013 is now available. Technology Management Concepts is thrilled to announce that Dynamics GP 2013 is now ready for purchase or upgrade from Dynamics GP 2010.
GP 2013's customers will benefit from a simple, intuitive experience and more than 125 new features and capability enhancements to the solution's comprehensive business management functionality. These enhancements optimize daily operational and financial processes, improve collaboration, business intelligence and reporting, and deepen interoperability with other Microsoft products and technologies, such as Microsoft Outlook and Office 365.
Microsoft Dynamics GP 2013 is all about the power of choice. GP 2013 enables flexible options around deployment, access, and use that facilitate new opportunities and promote empowerment, rather than imposing limitations. GP 2013 will not only transform how companies and teams work, but will increase productivity, with compelling new application functionality, giving them the ability to access the Business Analyzer from their home page, prepay purchase orders, drop-ship serialized items, track and report get rich context on each transaction with document attach, and more.
With Microsoft Dynamics GP 2013 companies can:

Transform the way people work by putting timely information and easy-to-use tools in their hands when they need them, no matter their location.
Connect the people inside and outside organizations and give them insight and context to drive better decisions and boost productivity.
Streamline systems, so that IT teams can think about ways to support growth instead of maintaining software.
Improve margins and enhance the bottom line, generating cash to fund growth.
Customer access and use of the solution is now a matter of their preference and their convenience. Customers can now access Microsoft Dynamics GP 2013 through a rich and innovative new Web client. This enables all of their employees easy access to GP 2013 with the new web client, so they can connect and contribute wherever they are, from their PC or mobile device. That sort of flexibility boosts not only productivity at the workplace, but also allows for innovation and inspiration wherever they are.
While Microsoft Dynamics delivers the vision, tools, and support you need to get ahead of changing business conditions and the competition—at the end of the day, the customer is in charge. Whether the client wants to deploy on-premise, in the cloud, or take a hybrid approach, it's their choice. For example, a customer could choose to retain their core financials at their business location, but use Email, Exchange and Excel in the cloud. In addition, improved "hostability" features, including multitenant databases and a new hosting management console, will help ensure streamlined cloud deployments.
Whichever type of deployment method is chosen, there are many ways to approach the implementation for GP 2013, and not surprisingly, some approaches work far better than others. Technology Management Concepts has distilled many years of implementation project experience into a simple and refined approach that produces the highest quality and lowest risk approach to implementing a new GP 2013 system. Another new feature of GP 2013's release is that TMC will be offering a faster implementation with RapidStart Services that use a simple, standardized process to help get customer solutions up and running not in weeks or months like other solutions, but in days. In addition to significantly reducing the time and effort required to configure a solution for each customer's specific needs, RapidStart Services can also reduce the down-time and business risk associated with implementation of a new solution, and help limit costly consulting hours.
"Initial feedback from our early adopter customers already has been extremely positive. Microsoft Dynamics GP 2013 offers an unprecedented choice in how and where the product is accessed and used, enables fast, flexible deployments, and delivers comprehensive capabilities that work like and with the solutions you already use in your business every day. It offers a rare combination of simplicity, choice and power that will drive long-term value for SMB customers."
About Technology Management Concepts
TMC is a certified Microsoft Gold ERP partner for Microsoft Dynamics GP, Dynamics NAV, Dynamics CRM as well as a certified NetSuite Solutions Provider. TMC specializes in the implementation of financial and business management systems, helping their customers stream-line their processes and maximize productivity. TMC has been a leading VAR in the ERP world since 1987. For over 15 years, TMC has been a Microsoft Gold Certified reseller and implementer of the most widely used and adopted industry-leading solutions.