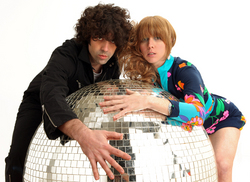 sublime mix of equal parts Talking Heads and The Carpenters
New York, NY (Vocus) January 30, 2009
Absolute Pitch Public Relations welcomes their newest client, Brooklyn-based art-pop band Dynasty Electric, into their fold. Described as "Blondie on acid" or a "sublime mix of equal parts Talking Heads and The Carpenters", Dynasty Electric is preparing for the release of their new EP, Burning, in April 2009.
The band, consisting of multi-instrumentalist extraordinaire Seth Misterka and "punk goddess" Jennifer DeVeau, the band formed in 2002 and has toured across the US, Canada, Japan, and Taiwan. They have had a number of television appearances such as on MTV2 and photo spreads in Zoo Magazine and Italian Vogue. In 2004, the band released a 7'' on Dollar Record Records, 2 EPs on Newsonic Records, and the critically acclaimed full-length album] "Black Box" on Mysterious Media.
Absolute Pitch founder Beatrice Bugnosen is thrilled to have Dynasty Electric as a client. "Dynasty Electric is such an amazing band to work with. They are incredibly original in how they bridge the experimental art world with their keen pop sensibility. Both music critics and mainstream audiences will love this band and we cannot wait to expose them to the world."
Featuring seven new songs, the Burning EP will be released in April of 2009. With already a loyal underground following throughout the US, Dynasty Electric is poised to be the next art rock darlings.
For more information on Dynasty Electric, visit http://www.myspace.com/dynastyelectric
Absolute Pitch Public Relations, founded in 2008 by Beatrice Bugnosen, specializes in publicizing and promoting independent, unsigned music acts. For more information, go to http://www.absolutepitchpr.com.
# # #