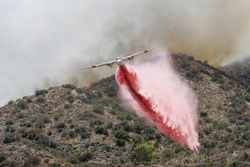 DynCorp and the citizens of California can be proud of these individuals who are key players in the state's wild land firefighting efforts.
FALLS CHURCH, Va. (PRWEB) July 23, 2008
DynCorp International is the contract incumbent, and has been helping to fight wildfires in California since 2001. The new contract will continue the program through 2014.
DynCorp International flies and maintains Grumman S-2T fire retardant air tankers and OV-10A aircraft, and fully maintains and services civilian UH-1H Super Huey helicopters flown by CAL FIRE pilots. Operating from across California, aircraft can reach most fires within 20 minutes. The OV-10A aircraft fly over fires, directing the air tankers and helicopters to critical areas for retardant and water drops. The helicopters can also transport firefighters and equipment.
More than 130 DynCorp International employees are directly engaged in this program, including 50 pilots and 77 aircraft mechanics.
CAL FIRE is responsible for more than 30 million acres of state land. Of 1,007 fires this year on state land, more than 99 percent have been contained and only three were active as of July 22.
"The CAL FIRE aviation program is seen as a world class aerial firefighting program by those in the industry. This is due, in large part, to the dedication and professionalism of the DynCorp International pilots, mechanics and support staff working in the program," said CAL FIRE Chief of Aviation Mike Padilla. "DynCorp and the citizens of California can be proud of these individuals who are key players in the state's wild land firefighting efforts."
In 2007, DynCorp International helped suppress more than 7,600 wildfires in California. DynCorp International pilots flew 7,550 hours, and mechanics supported state-employed pilots who flew another 3,334 hours. Together, they dropped more than 8.7 million gallons of fire retardant and gel. DI helped the California Department of Forestry and Fire Protection and local and regional firefighting departments limit more than 95 percent of the wildfires to less than 10 acres.
"We are very happy to continue our work with CAL FIRE, applying our years of aviation experience to fighting wildfires and helping protect homes and businesses throughout California," said DynCorp International President and CEO William L. Ballhaus. "This is an outstanding example of a state and private sector partnership with tremendous benefits for the people of California."
About DynCorp International
DynCorp International is a provider of specialized mission-critical services to civilian and military government agencies worldwide, and operates major programs in law enforcement training and support, security services, base operations, aviation services, contingency operations, and logistics support. DynCorp International is headquartered in Falls Church, Va. For more information, visit http://www.dyn-intl.com.
MULTIMEDIA GALLERY http://www.businesswire.com/cgi-bin/mmg.cgi?eid=5738836