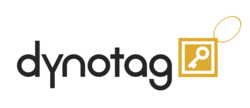 At long last - an Internet Enabled Smart Label solution is finally here for the consumers. Free to use, with high quality products available on-line.
Seattle, WA (PRWEB) January 10, 2012
Dynotag, Inc. announced an industry first - Internet-Enabled Smart Labeling solution that is affordable, easy to use and built for consumers. Traditionally, the use of QR Codes has been restricted to marketing companies and large organizations – leaving the consumers without any solutions that meet their needs. Now, Dynotag answers this need with free web based dynotag labeling capability as well as offering a variety of ready-to use dynotag products that can be purchased today.
Dynotag has made a short introductory "Telestration" cartoon video available, featuring embedded dynotags with real use examples.
Featuring a unique QR Code and a corresponding unique short web address usable on any computer, every dynotag Smart Tag leads to a cloud-hosted private information page linked to that dynotag.
Users can pick from a variety of ready tag templates or upload a file – or just point to a web address, such as LinkedIn page, Facebook page, YouTube video, etc. The information can be updated anytime over the web, and is hosted by Dynotag in a secure and private manner using industrial strength cloud storage.
"What makes Dynotag unique is users can create a free account and create as many free dynotags they need with that account. Dynotags are kept forever unless their owner deletes them." Said Murat Divringi, Founder and CEO of Dynotag.
"Dynotag is the first company with solutions that are geared for consumers, answering real world needs for real people. We have designed a simple, easy to use yet powerful user interface that makes dynotags accessible to individuals anywhere on the planet - for uses ranging from simple property labeling to emergency aid and sophisticated object hyperlinking projects" added Divringi.
Consumers can make their own free dynotags and use them in any way the want. If they want to use a quality, ready-made dynotag-powered product, they can simply buy one from Dynotag's web store or a retail partner.
All ready-to-use Dynotag products leverage the inherent power of dynotags – and feature additional "premium" capabilities, giving them extra storage, security and notification features.

Ready-to use sticker kits offer weatherproof stickers suitable for labeling all types of gadgets, books and property.
Ready-to-use, weatherproof Luggage Tags and Mini Tags can be attached to bags, luggage, sporting equipment and outdoor gear.
ECI (Emergency Contact Information) Card kit provides a wallet and shoelace/keychain card, specially designed to be weatherproof, visible and recognizable by EMS (Emergency Medical Service) personnel – who can access the vital information stored in the dynotag.
Emergency Contact Info Pendant is a specially designed military style metal pendant that has the features of the EIC card – but can be worn continuously at all times.
Round Metal Pet Tags are useful for storing vital information to recover pets.
"What is amazingly useful is the fact that you can update the contents of a dynotag even after you lose the tagged property!" added Divringi. "That way, the information can be kept up to date and relevant. For example, if you misplace your tablet computer – and if it has a dynotag on it – you can post a reward for its return – after you lose it!"
Dynotag makes its products available through their Amazon Store at store.dynotag.com, ready for Amazon Prime delivery everywhere.
About Dynotag:
Founded by experienced technology entrepreneurs from the Seattle area, Dynotag is a Technology Company based in Seattle, Washington. Dynotag, Inc. specializes in offering state-of-the art, capable yet easy to use labeling/ tagging solutions for consumers and businesses. Dynotag's retail products are available direct on-line as well as through partners and licensors.
Dynotag - "There is a Tag for That" (tm)
###