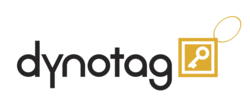 Automatic virus scanning of uploaded content makes sure dynotag QR codes do not deliver unchecked content to the reader!

...Finally a QR code you can scan with peace of mind...
Seattle, WA (PRWEB) February 08, 2012
Dynotag, Inc., a Seattle based Technology company, providers of Dynotag Internet-Enabled QR Code Smart Tag products, announced immediate availability of new Industry-leading products and features.
"Given that everyone - not only tech savvy folks - use our products, we feel it is our responsibility to help our users from inadvertently spreading infected content" said Murat Divringi, Founder & CEO of Dynotag.
To address this challenge, Dynotag has introduced automatic Virus Scanning for all files uploaded as Dynotag Smart Tag content. Files with malware are rejected at upload time, informing the dynotag owner of the specific malware detected.
Last month Dynotag announced an industry-first retail product line of Internet Enabled QR Code merchandise offering real-world property and person tracking/recovery solutions for everyone.
"Dynotags are smart labels for the Internet age. Our retail products have found growing niche with people who realize this is great technology anyone can use" added Divringi.
"We know it is easy and popular for our users to upload a MS Word Document, a PDF document and other content that is potentially infected with malware" said Divringi. "Last thing an Emergency Medical Service technician or a good samaritan needs is to access the dynotag to get information and infect their own smartphone or computer in the process. We know this concern is at the back of everyone's mind" added Divringi.
"From now on, when you scan a Dynotag QR code or enter a Dynotag Web Address, you can have peace of mind knowing that you will not be given unchecked content" he continued.
And in those cases when the Dynotag is redirecting them to another site, the end user will always be informed they are about to jump away from Dynotag content, so they can choose whether they will make that leap or not.
"This makes Dynotag QR codes the first 'Security Conscious' QR code in the industry" said Divringi.
In addition, Dynotag introduced the capability of providing dynotag owners with precise GPS assisted location for a number of leading smart phones such as iPhone and Android series. As an opt-in decision by the person scanning the dynotag, their smartphone can send pinpoint location information. "This will be extremely useful for locating wayward pets, recovering lost property and locating loved ones who are carrying Dynotag Smart Tags" added Divringi.
Dynotag also introduced a retail line of ready-to-use weatherproof full-page, half page and 3.33"round Internet-Enabled QR Code Smart Tags. Offered as giant stickers made of synthetic stock and strong peel-off adhesive backing, they work indoors and outdoors.
"I believe no sales person or real-estate professional should be without a set of these in their car" said Divringi. Equally applicable in event signage, small businesses and anyone who needs to connect with their audience in a flexible, efficient fashion, these dynotags come in a tough rigid package and can be re-used many times for different purposes.
"You can share the information that you create, update any time and get real-time access analytics" said Divringi. "You don't even need a web site. All you need is activating your dynotag and publish any information you want to share, perhaps as a MS Word Document, a picture, anything you can think of" he added.
o Those new to dynotags can watch this short fun video outlining uses of dynotags.
o Effective February 1, 2012 Dynotag content virus scanning is active for all uploaded content.
o GPS location, password protection, access notification and other advances features are now available as an upgrade for standard dynotags.
o Getting a standard account at dynotag.com is free - so is creating as many standard tags as you need, with unlimited linked storage and no subscription fees.
o Upgrading standard tags to use advanced functionality is as easy as a couple clicks, if and when you need them.
o New line of ready-to-use large Internet-Enabled QR Code Smart Tags are available at dynotag's Amazon web store at http://store.dynotag.com, ready for Prime delivery everywhere.
About Dynotag: Founded by experienced technology entrepreneurs from the Pacific Northwest, Dynotag is a Technology Company based in Seattle, Washington. Dynotag, Inc. specializes in offering state-of-the art, capable yet easy to use labeling/ tagging solutions for consumers and businesses. Dynotag's retail products are available direct on-line as well as through partners and licensors.
Dynotag - There is a Tag for That™
###