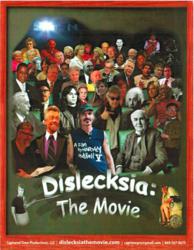 We are in the middle of a revolution
Litchfield, CT (PRWEB) May 31, 2012
After spending six years creating the most comprehensive documentary on dyslexia, Hubbell completed Dislecksia: The Movie, and the film has recently begun it's run on the film festival circuit, taking home Best Documentary and Best Director at the Greenville International Film Festival as well as Best Feature Documentary at the Black Hills Film Festival.
Dislecksia: The Movie has started a grassroots movement to spread dyslexia awareness and has backed multiple efforts to change or create laws that affect people who struggle with dyslexia. Hubbell: "We are in the middle of a revolution and we have to gently wake up a lot of people."
Harvey likes to say there is a difference between filmmaker activists and activist filmmakers. As a filmmaker activist (with nine Emmys under his belt), Harvey wanted to make a great film first and foremost. Harvey: "You can't catch anyone's attention if the film isn't good." And that's part of the purpose of this film - to catch the viewer's attention and actually teach them something about dyslexia while spreading awareness about this learning disability.
Dislecksia: The Movie has been screening at Greenville International Film Festival in South Carolina, the Arizona International Film Festival in Arizona, Black Hills Film Festival in South Dakota, and other locations. Hubbell utilizes these film festival appearances as a chance to hold panel discussions after the screenings in order to further inform the audience and community on what needs to be done in the education system to help those with dyslexia.
"We love to use social media to promote and spread awareness about Dislecksia: The Movie and what we are doing," Harvey explains. "It's actually where we've found a lot of fellow advocates and even some corporate sponsors."
One of our corporate sponsors, Dynaread, found us by searching the internet for those working in the world of dyslexia. Dr. Holly Shapiro from Ravinia Reading Center contacted us on Twitter and quickly became another sponsor for Dislecksia: The Movie. "The Gow School is another one of our corporate sponsors," Harvey says, "They were actually our first Academic Sneak Preview where we went to the school, talked with the students, and showed our film to them and the local community just prior to it being completed."
Dislecksia: The Movie is a completely independent film in every sense of the word 'independent.' Funding for this film has come from crowd funding campaigns in which their advocates helped raise funds, corporate sponsors, and from Harvey's own pockets.
Dislecksia: The Movie is not just a documentary, it is part of a Nationwide movement that is working to grow and strengthen dyslexia advocacy. Harvey: "We respond to our advocates when they email or Facebook message us. We listen to the stories of upset mothers or dyslexic students when we meet them at a screening. Why? Because we made this film to spread awareness for these people. "
People need to be aware of dyslexia, and they need to know how to help these students. For more information on Dislecksia: The Movie, you can join their mailing list. or follow them on Facebook and Twitter.