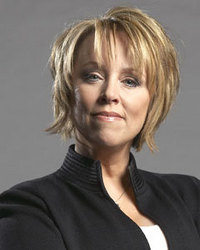 It breaks my heart -- and offends my sense of justice -- that children and adults with dyslexia have to cope not only with the condition, but with the stigma society has attached to its symptoms
Toronto, Ontario (PRWEB) April 23, 2009
Paula Todd is an acclaimed journalist, broadcaster, author, lawyer and reporter for CTV's W-FIVE, Canada's #1 investigative news program and North America's longest-running news magazine. With more than 20 years of experience in Canadian journalism, Todd has held a variety of high-profile positions where she has covered legal and social issues, politics and current affairs. Todd has volunteered countless hours with organizations dedicated to helping individuals with learning disabilities and is now turning her attention to the world of dyslexia.
"It breaks my heart -- and offends my sense of justice -- that children and adults with dyslexia have to cope not only with the condition, but with the stigma society has attached to its symptoms," Todd says. Although many people have heard of dyslexia, most are unaware of the frustration and emotional issues associated with the condition. In her opening remarks, Todd will explain why her love of reading and writing has fuelled her passion to help anyone struggling with dyslexia and other learning disabilities. "Imagine treating a woman as if she were stupid because she has been diagnosed with breast cancer, or ridiculing someone with a heart murmur? Public awareness can go a long way to improving life for the intelligent people, who happen to have dyslexia."
According to Sally Shearman, President of ONBIDA, dyslexia affects 1 in 10 people. Given that statistic, the annual conference targets a broad audience including parents of children with dyslexia, individuals with the condition, and the professionals that support them. "This year we have three distinct streams of workshops so that families, educators and other professionals can take home information that is directly relevant to their needs," Shearman says. The conference also boasts a wide array of literacy exhibitors and a book signing by author Tory Woollcott who has published the first comic about dyslexia. Delegates can also enjoy a special pre-conference presentation and performance by noted singer-actress Lesley Andrew who has dyslexia.
ONBIDA's conference will be held at 89 Chestnut Street in Toronto on May 2nd from 7:30 am - 4:30 pm. Lesley Andrew's special presentation "Beating the Odds" and reception will take place at the same location on May 1st from 7:00 pm - 9:30 pm. To register visit the Annual Conference area at ONBIDA or call 416-423-0075.
About The Ontario Branch of the International Dyslexia Association
The Ontario Branch of the International Dyslexia Association (ONBIDA) was founded in June 2004 and is operated entirely by volunteers, providing free information, support and referral services to the public. ONBIDA believes that all individuals have the right to achieve their potential, that individual learning abilities can be strengthened, and that social, educational and cultural barriers to language acquisition and use must be removed.
For further information please contact:
Michelle Halsey, Executive Director, ONBIDA
416-423-0075 or executivedirector @ idaontario.com
###