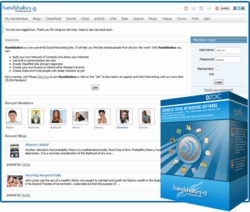 Create a unique Social Networking website using Handshakes Professional v4.1!
Muskegon, MI (PRWEB) June 02, 2011
DZOIC LLC is thrilled to announce that a new release is available for Handshakes Professional. DZOIC Handshakes is the best solution to start a social networking website. The newest update includes many new improvements and features such as:

Google Maps: for Events, Classifieds & Profiles making it easier for Members to find each other
Google Translation: now websites can be translated into 52 languages on the fly by visitors
Mobile Neo Theme: allows Members full access to the Handshakes site on the go using cell phones or other mobile devices.
Community Area: DZOIC is so confident in Handshakes Professional, it has been used to create an all new Community on dzoic.com! Customers who have an active Handshakes or ClipHouse License will have total access to the Community and guests are more than welcome to browse. Shop for Mods, locate web developers and designers, use the Q & A Section to ask questions of other Members and get answers! Also have access to the new easy to use Forums as well as many other exciting features.
Visit the DZOIC Community and notice the latest version of CometChat Software is installed. CometChat integrates easily with Handshakes to allow community members to chat between friends, create private chatrooms, play games plus much more! Visit CometChat.com for more information. Special arrangements have been made with Comet Chat for some great coupons:
Purchase the Professional Edition or higher edition of CometChat between now and June 8, 2011 and receive a 20% discount by using promotional code DZ20OFF and from June 9, 2011 through July 1, 2011 and get a 10% discount by using promotional code DZ10OFF.
Handshakes Professional comes jam-packed with many fabulous features including; a Facebook style Activity Wall, Q&A, Videos, Blogs, Classifieds, Instant form validation and many more. It is the perfect solution for creating a unique social networking website. Please visit http://www.dzoic.com for more information.
###